Hospitality Ireland Presents Round-Up Of Global Food And Drinks News
Published on Oct 12 2021 1:00 PM in General Industry tagged: Coffee / Japan / Colombia / Arabica / Wagyu Beef / Osaka University / La Meseta / CF Fertilisers / Carbon Dioxide Industry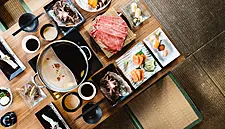 Hospitality Ireland presents a round-up of global food and drinks news.
Japanese Scientists Work Up An Appetite For Lab-Grown Wagyu Beef
Japan's famed Wagyu beef, a delicacy that can cost more than $200 a pound at some top restaurants, could become much more affordable in the form of a lab-grown replica.
Japanese scientists say they have succeeded in recreating Wagyu, renowned for its fat marbling, in a laboratory to produce something that could eventually look and taste like the real steak.
Wagyu beef comes from a breed of black cattle, most famously cultivated in the Kobe area of Western Japan.
Osaka University researchers led by Michiya Matsusaki used 3-D bioprinters and bovine stem cells to replicate Wagyu's distinctive marbling in a solid steak-like piece, rather than a minced form that has typified other attempts at cultured meat.
It currently takes about three to four weeks to generate a cubic centimetre of cultured meat, so it's not ready for the grocer's aisle just yet. But as the techniques and efficiency improve, the method could produce something that mimics the real thing, Matsusaki said.
"If we are able to quickly produce a lot of meat from a few cells, there's a chance we can better respond to food and protein shortage issues in the future," Matsusaki told Reuters.
Environmental and ethical concerns around the meat industry have driven interest in vegetable alternatives and the potential for lab-grown products. That has spurred strong growth in developers of real meat alternatives, including plant-based burger maker Impossible Foods Inc which is preparing for a public listing that could exceed $10 billion, sources say.
Matsusaki said the bioprinting and culture techniques developed in his lab could also have applications in human medicine, such as growing replacements for damaged muscles.
It now takes about 10,000 yen ($89.40) to produce a single gram of lab-grown Wagyu, but with more automation, the price could drop such that it would be marketable for the general public within five years, Matsusaki said.
UK Says CO2 Industry Strikes Deal To Maintain Supply
The carbon dioxide industry in Britain has struck an agreement to ensure businesses have a sustainable supply until the end of the year, even as energy prices spike, the government said on Monday.
Britain's food industry was rocked last month when CF Fertilisers, which produces 60% of the country's commercial requirement as a byproduct, shut its two main plants due to the jump in natural gas prices.
CO2 is used to put the fizz into beer and sodas and stun poultry and pigs before slaughter. It is also used in packaging to extend the shelf life of meat.
Britain agreed to provide three weeks of emergency state support to the sector in late September. It said on Monday the industry had agreed new terms that would run until Jan. 2022.
"CO2 suppliers have agreed to pay CF Fertilisers a price for the CO2 it produces that will enable it to continue operating while global gas prices remain high, drawing on support from industry and delivering value for money for the taxpayer," it said.
Business minister Kwasi Kwarteng said in a statement the agreement meant industry could have confidence that it would receive future CO2 supplies, without further taxpayer support.
The government said in September food producers should prepare for a 400% rise in carbon dioxide prices as part of the hit the industry had taken from soaring energy costs.
Major Coffee Buyers Face Losses As Colombia Farmers Fail To Deliver
Coffee farmers in Colombia, the world's No. 2 arabica producer, have failed to deliver up to 1 million bags of beans this year or nearly 10% of the country's crop, leaving exporters, traders and roasters facing steep losses, industry sources told Reuters.
World coffee prices have soared 55% this year, mainly due to adverse weather in top producer Brazil, prompting Colombian farmers to default on sales clinched when prices were much lower in order to re-sell the coffee at higher rates.
"Traders are getting defaulted on, it's a mess. If drought continues (in Brazil), 300 cents (per lb of coffee) is possible. It's going to be mayhem," said a dealer at a global agricultural commodities trade house.
He said leading global roasters are planning to change the branding on their 'single origin Colombia' coffees due to sourcing problems.
Delivery defaults in a major producer like Colombia can exacerbate price spikes on world markets, although these would be temporary because the coffee ultimately exists and will weigh on markets once it is re-sold.
Colombian farmers say they will deliver the coffee later this year or next but buyers are unconvinced.
Many are opting to see losses now and write the purchases off as defaults rather than wait and risk even bigger losses if farmers still don't deliver next year and prices rise further, according to a senior trader at another global trade house.
He said several global trade houses are looking at losses of $8-10 million each on undelivered coffee, while Colombia's coffee growers federation FNC, which represents farmers but also accounts for 20% of the country's 12.5 million bags of annual coffee exports, faces higher losses.
"There was easily 1 million bags of forward (Colombian coffee sales) done before the market started rallying mid-May," said the senior trader. "If you work for a multinational (trade house) your boss will say come on, we have to take the hit."
Delivery defaults in a rallying coffee market are a huge issue for commodity exporters and traders who often hedge physical purchases by taking short positions in the futures market, causing them to sustain steep losses as prices rise.
Usually, traders would be able to sell the physical coffee they are owed at current lofty rates in order to offset their futures market loss, but in the case of a default, they can't.
Defaults can also force traders to purchase supplies pre-sold to roasters at a loss in the pricey spot market.
FNC head Roberto Velez confirmed to Reuters that Colombia is facing widespread defaults.
"I can tell you there are few Colombian exporters not suffering (from defaults). All the major trade houses and also the federation as a major exporter, we're all suffering (losses)," he said.
"When a grower doesn't deliver, the whole chain gets stuck losing money," he added.
Traders told Reuters the federation has given Colombian farmers at least another year to deliver the coffee - a move that could force the industry body to approach the government for bail-out funds if the farmers still don't deliver in time.
A senior Columbia-based coffee trader with Louis Dreyfus Company (LDC) left the company in the wake of losses, two sources with knowledge of the matter said.
LDC said it does not comment on organizational changes except in relation to executives.
"Companies will be in trouble with (the scale of the losses), big guys will change their team, but smaller guys will go bankrupt," said a senior trader.
He added major local Colombian exporter La Meseta has been hard hit by farmer defaults and is struggling to make good on its supply deals with international roasters, leaving them exposed to losses.
La Meseta did not respond to Reuters requests for comment.
Selling coffee forward in Colombia has become popular in the last few years, but up until this year, the move had mostly worked out in favour of farmers as world prices drifted lower so farmers received better prices for their coffee on delivery, not worse.
About 550,000 Colombian families make their living growing coffee and the Andean country is the largest producer of the washed arabica grade on which benchmark futures contracts on the ICE exchange are based.
News by Reuters, edited for Hospitality Ireland by Conor Farrelly. Click subscribe to sign up for the Hospitality Ireland print edition.