Hospitality Ireland Presents Round-Up Of Global Food And Drinks News
Published on Oct 19 2021 9:16 AM in General Industry tagged: Coffee / Just Eat / Takeaway / Delivery Hero / Takeaway.com / Just Eat Takeaway.com / Gorillas / Just Eat Takeaway / Draper Esprit / allplants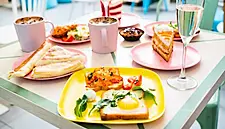 Hospitality Ireland presents a round-up of global food and drinks news. Takeaway Shares Rise 6.7% After Investor Cat Rock Increases Stake Shares of Just Eat Takeaway.com closed 6.7% higher at €69.67...
Hospitality Ireland presents a round-up of global food and drinks news.
Takeaway S

hares Rise 6.7% After Investor

 Cat 

Rock I

ncreases Stake

Shares of Just Eat Takeaway.com closed 6.7% higher at €69.67 in Amsterdam on Friday October 15 after investor Cat Rock Capital Management LP increased its stake.

In an SEC filing published Friday, Cat Rock, the company's third-largest shareholder, said it now holds 5.93% of Takeaway as of the reporting date Oct. 4. According to Refinitiv data, Cat Rock's shareholding had been 5.13% as of its most recent previous disclosure.

Takeaway reported weaker than expected third-quarter order numbers on Wednesday October 13 in a trading update. The company is due to meet with investors this week to discuss strategy. The company's shares are down 25% in the year to date.
Shipping D

isruptions T

o Keep

 Coffee P

rices H

igh F

or Longer, Say Experts

Disruptions to transportation of coffee around the world, caused by container shortages and port congestion, will likely keep coffee prices high for a longer time since they make it more difficult for the market to rebalance supplies geographically.

Coffee analysts and traders said on Friday October 15 during the annual conference organised by the Swiss Coffee Trade Association (SCTA) that transportation problems are preventing available supplies from moving quickly to meet demand in some areas of the world, boosting prices for the commodity.

"When you have a global supply deficit, you will look for stock draws. High prices would boost transportation (of available coffee), but that is really not happening," said Ben Clarkson, head of the coffee platform at Louis Dreyfus.

"There are clearly risks of higher prices. The market is scrambling for some kind of equilibrium but has not found that yet," Clarkson added.

Arabica coffee prices in New York were near the highest in seven years this week, as the market deals with the outlook of a reduced supply in top grower Brazil after drought and frosts.

"We believe in a deficit of around four million bags, other analysts see it as high as seven million bags," said Carlos Mera, head of agri commodities market research at Rabobank, adding that exports from Brazil and other producing countries have been slow due to shipping bottlenecks.

Nhung Ly, managing director at COMCO Trading in Vietnam, said the Asian country, the world's second-largest coffee producer, will have a large 2021/22 coffee production on top of already big carry-over stocks, but companies have been struggling to move that coffee out of the country.

The experts said that current high prices will eventually boost production in countries and regions other than Brazil, such as Colombia, Central America and Africa, which will lead to a more balanced supply, but that would take time.
Delivery 

Hero B

uys Minority Stake In Grocery

 Delivery S

tartup

 Gorillas

Delivery Hero said on Tuesday October 19 that it had invested $235 million in the Berlin-based grocery delivery company Gorillas, amid a boom in rapid delivery services.

The purchase means Delivery Hero will own 8% of the fast-growing startup which operates in nine countries and has coveted 'unicorn' status little more than a year after its foundation.

The investment is part of a series C funding round which has raised close to $1 billion and saw participation by China's Tencent and Coatue, among other top-tier investors.

"We truly believe that investing in innovative q-commerce players will benefit the entire industry," said Delivery Hero Chief Executive Niklas Oestberg in a statement.

News by Reuters, edited by Hospitality Ireland. Click subscribe to sign up for the Hospitality Ireland print edition.
Draper Esprit Leads Funding Round For Vegan Delivery Start-Up AllPlants
As reported by The Irish Times, venture capital firm Draper Esprit has led a £38 million (€45 million) funding round for UK vegan delivery start-up allplants.
Draper Esprit was reportedly among a number of VCs to back London-based allplants, which is reportedly hoping to capitalise on the shift away from meat consumption in favour of plant-based foods and proteins.
The raise is reportedly the largest ever second phase funding for a European plant-based food business.
Allplants, which was reportedly founded in 2016 by Jonathan Petrides and his brother, Alex, and reportedly serves the "plant-curious" or flexitarian consumer market, reportedly said that it will use the investment round to increase the size of its plant-based kitchen in Walthamstow, North London, sixfold and expand its selection of meals, enabling it to service a rapidly expanding direct-to-consumer UK market. It will reportedly also build scalable capacity for rapid distribution into other channels.
Allplants chief executive Jonanthan Petrides reportedly said, "In the five years that we have been cooking, we've seen the demand for plant-based food explode,", and reportedly added, "We've got a ton of exciting plans to bring the movement to even more people's kitchens, and this investment will allow us to do just that."
Draper Esprit partner Nicola McClafferty reportedly said, "This is an extremely exciting investment for Draper Esprit,", and, "allplants is uniquely positioned at the intersection of some of the fastest growing areas in food consumption today: high quality, plant-based meals that deliver on taste, sustainability and nutrition in an incredibly convenient way for consumers."
Draper Esprit is reportedly a shareholder in a diverse portfolio of companies reportedly including Trustpilot, UiPath, TransferWise, and Graphcore.
Article by Dave Simpson. Click subscribe to sign up for the Hospitality Ireland print edition.