Hospitality Ireland Presents Round-Up Of Latest Food And Drinks News
Published on Sep 3 2021 8:52 AM in General Industry tagged: Trending Posts / Bord Bia / AB Inbev / Cargill / McDonald's / Kofola / Constellation Brands / Anheuser-Busch InBev / Delivery Hero / Kofola ČeskoSlovensko / Grupo Modelo / De' Longhi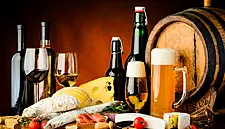 Hospitality Ireland presents a round-up of the latest global and Irish food and drinks news.
AB InBev Sues Constellation Brands
The Mexican arm of Anheuser-Busch InBev (AB InBev) has accused Constellation Brands in a lawsuit of a second breach of their deal allowing Constellation to sell Mexican beers in the United States.
Grupo Modelo filed a suit in the US district court of the southern district of New York this week, according to a court document, over Constellation's launch of two Modelo Reserva beers, one aged on tequila and another on bourbon barrels.
It says the first breaches US and Mexican laws that strictly limit the use of the word tequila, and the second breaches Constellation's sub-licence to sell "Mexican-style beer" because bourbon has nothing to do with Mexico.
The sub-licence also does not allow this type of spirit branding, the suit says.
Constellation said Grupo Modelo's claims were without merit and that it had fully complied with the sub-licence terms.
When AB InBev took full control of Grupo Modelo in 2013, it agreed with US antitrust regulators to sell Grupo Modelo's business in the United States to Constellation. The world's largest brewer retained rights to Modelo brands.
The filing says Grupo Modelo notified Constellation of the issue in June and that Constellation had refused to stop selling the product.
AB InBev, which confirmed the filing, said Mexico's Tequila Regulatory Council (CRT) had also demanded Constellation cease its use of the word tequila in marketing.
In February, Modelo filed a legal challenge in the same court over Constellation's Corona Hard Seltzer, a sparkling water with alcohol flavouring, one of several seltzer drinks that have become very popular in the United States.
The AB InBev subsidiary said the 2013 deal only allowed Constellation to apply the Corona brand name to beer.
Constellation said at the time that Modelo's claims were without merit and an attempt to restrain a strong competitor.
The new case is the latest in an increasingly litigious brewing market. In July, the CRT settled a four-year legal dispute with Heineken over the latter's tequila-flavoured beer Desperados.
Brad Pitt Lands Starring Role With Coffee Machine Maker De' Longhi
Brad Pitt has followed in the footsteps of his Hollywood friend and Nespresso star George Clooney by becoming a brand ambassador for coffee machine maker De' Longhi.
The Italian domestic appliances company said it had launched a global campaign for its home espresso coffee machines with a video directed by La La Land's director, Damien Chazelle, and starring Oscar-winning actor Pitt.
Clooney, who is a long-standing friend of Pitt's, has for many years been the advertising front man for Nestle's premium coffee brand Nespresso.
"Our Group has experienced extraordinary growth in recent years and the segment of espresso coffee machines for households has taken on a central role in this expansion," De' Longhi Chief Executive Massimo Garavaglia said in a statement.
De' Longhi reported a double digit growth in revenues last year as people staying at home during lockdowns boosted demand for coffee machines, cooking aids and air conditioners.
Espresso coffee machines for households count for more than half of De' Longhi turnover.
"The investment planned for this campaign is an integral part of the accelerating strategy on marketing and communication activities implemented in recent years," Garavaglia added.
Czech Drinks Maker Kofola ČeskoSlovensko's Q2 Profit Jumps After Lockdowns Ease
Czech soft drinks maker Kofola ČeskoSlovensko has recorded a 65% year-on-year rise in second-quarter earnings before interest, tax, depreciation and amortisation (EBITDA), boosted by the easing of COVID-19 pandemic-related restrictions in hospitality.
The company said that EBITDA reached 378.8 million crowns ($17.71 million) in the quarter. It also tightened its full-year 2021 outlook for EBITDA, expecting it to reach 1.08 billion to 1.15 billion crowns.
Revenue in the second quarter rose 22.9% to 1.80 billion crowns.
Delivery Hero To Raise Up To €1.25bn In Convertible Bonds
Delivery Hero is issuing convertible bonds worth up to €1.25 billion to allow the German online food delivery company to take advantage of possible investment opportunities, it has said.
The dual tranche bonds due 2026 and 2029, which will be issued on or around September 10, will be converted into newly issued shares.
The loss-making company said last month that it was not considering making an offer for its British rival Deliveroo, days after the German company acquired a 5.09% stake in the London-listed online food delivery company.
Delivery Hero cannot bid for Deliveroo for six months, according to British takeover rules, but the Frankfurt-listed company said it could choose to make an offer with the agreement of Deliveroo's board and under some other circumstances.
Founded in 2011, Delivery Hero operates in about 50 countries, with particular strength in Asia, where it owns the Foodpanda brand. However, it does not operate in Britain, which is Deliveroo's largest market.
Cargill Opens New Brazil Pectin Factory
The Brazilian unit of US commodities trader Cargill has finished building a new facility to produce pectin, a fruit by-product used in jams, beverages, dairy products and confectionery, the company said on Friday September 3.
The plant is Cargill's only pectin facility outside of Europe, where it owns three such units.
It will make Cargill the world's second largest producer of the food ingredient, Laerte Moraes, Cargill's director for starches and sweeteners in South America, said in an interview.
Located close to Brazil's orange belt - where Cargill will source orange peel as the raw material - the factory should help trim company production costs as currently two of its plants in Europe have to import orange peels for processing there.
The Brazilian unit will mainly cater to export markets, particularly clients in Asia, and will employ 120 people, the company said.
Cargill's move reflects a need to balance large-volume businesses that have lower margins while boosting its presence in market segments with smaller volumes but higher prices.
It is also a response to evolving industrial customer and consumer dietary requirements. Global demand for pectin, a natural ingredient that can be used as an emulsifier, stabilizer and thickener agent in cooking and baking, is expected to grow by up to 4% per year, Cargill said.
The company, one of the largest soy and corn traders in Brazil, announced construction of the new plant in 2018. Though the work was slightly delayed in 2020 due to the pandemic-related restrictions, the plant will begin operations this month, Moraes said.
The new plant can produce some 6,000 tonnes per year of the high-value product, a kilogram of which can cost between $15 and $20, Moraes said.
Cargill invested 550 million reais ($106.52 million) in the factory, according to Moraes.
Britain's Trucker Shortage Jams Post-Pandemic Recovery
Two furloughed jumbo jet pilots and a burnt-out finance worker have been among the more unusual candidates to learn how to drive 44-tonne trucks at Laurence Bolton's school in south London during the pandemic.
"You get people from all industries, and think: 'Blimey, I never saw you here before 2020'," Bolton said. "There are more people that have been displaced from retail, with the high street closing or certainly running down, and from hospitality."
Business is brisk for truck driving schools as Britain emerges from its COVID-19 crisis. The country is facing an acute shortage of lorry drivers, and haulage companies are raising starting salaries and offering sign-on bonuses to entice candidates in the post-pandemic economy.
Bolton, managing director of the National Driving Centre, said he had seen a 20% rise in the number of people seeking to become truckers compared with before the pandemic.
It's not enough, though. Britain needs 100,000 more drivers if it is to meet demand, according to the UK's Road Haulage Association (RHA). The signs are already there: sporadic gaps on supermarket shelves, pubs running low on beer, McDonald's suspending milkshakes.
The shortfall, mirrored to a lesser degree in other countries like the United States and Germany, spells potential trouble on the inflation front. Truckers are a central cog in the global economy, carrying almost all our goods. If there aren't enough of them, it is likely to drive up prices.
Wesley Van Tonder, who delivered food for Uber Eats and Deliveroo during the pandemic, is among those workers who have sought to change course in the new reality - he has cashed in his motorbike to fund truck-driving lessons at Bolton's school.
"Now everything is starting to open back up so there's more people on the road, and on the bike it's a bit dangerous," he said. "I'd rather drive a truck."
The Bank of England expects British inflation to hit a 10-year high of 4% this year. How fast it might fall thereafter depends in part on how quickly people who have lost their jobs in the pandemic switch to sectors such as logistics where workers are badly needed.
UK manufacturers said shortages of raw materials and delivery delays disrupted production last month, leading to slower growth and a marked increase in costs.
Britain is not alone with its driver shortage. United States trucking firms want more visas for foreign drivers and German logistics bodies estimate a 45,000-60,000 driver shortage there.
But the gap is bigger in Britain, where post-Brexit immigration rules since Jan. 1 have cost the industry 20,000 drivers from the European Union, the RHA told Reuters.
Normally nearly 40,000 people a year pass tests to drive a lorry in Britain, but this fell by almost two-thirds last year at the height of the pandemic when many driving schools were closed for long stretches in an already aging industry.
"We do not have enough fresh blood coming in," said RHA policy director Rod McKenzie. "Britons will not get the things they want. That is the position we're in now. And it's getting worse between now and Christmas."
This was echoed by Bolton at the National Driving Centre.
"You've got to make sure that Amazon deliveries arrive at people's doors," he said. "People have the expectation that everything is 'click to buy', with the expectation 'I want it here tomorrow'. But the supply chain can't cope with it, with the amount of drivers that are left in the industry." Britain's government has rejected industry calls to temporarily ease visa restrictions for EU lorry drivers, and instead told the sector to improve pay and conditions.
The demand has driven up wages: salaries for new drivers in Britain rose by 5.7% between February and July compared with a 0.8% increase across all types of jobs, according to Jack Kennedy, an economist at recruitment website Indeed.
The shortage has also led companies such as Gist, a division of US-German Linde which delivers food to British supermarkets Tesco and Marks & Spencer, to offer £5,000 sign-on and retention bonuses.
Yet it's an industry where trade unions have long criticised pay and conditions.
The average hourly wage for truck drivers in 2020 was £11.80 an hour, or £30,820 a year, according to official data.
While the annual salary is roughly in line with the national average, hours are longer and often anti-social - a typical full-time truck driver was paid to work for 47 hours a week, compared with 37.5 hours for the average job.
The sector in Britain is dominated by small haulage companies which operate on thin margins, pressured by big customers in the retail and industrial sectors, according to Adrian Jones, a national officer at trade union Unite.
Unite wants an industry-level agreement on minimum pay rates, as in some other European countries and more regulated sub-sectors such as petrol and chemical delivery.
Big signing-on bonuses from some large employers were not translating into broader pay rises, and instead suggested that they thought the current shortage would blow over, Jones said.
"That's just a sticking plaster over a gaping wound. That is not a solution to the problem," he added.
A big question mark for Britain's central bank is whether the recruitment difficulties mark the start of a longer-term, more broad-based rise in the country's wages, which have been weak since the 2008 financial crisis.
Deputy Governor Ben Broadbent has highlighted a mismatch between new jobs created during the pandemic in areas such as logistics and IT, and the skills of people in sectors that suffered such as high-street retail and hospitality.
However, in an ominous sign for the Bank and inflationary pressures, Indeed economist Kennedy said the flow of new drivers from outside the sector appeared to slow in the three months to June, as job options widened.
For some, though, the lure of the open road is irresistible.
London bus driver Nick Fuller is among those training at Bolton's National Driving Centre and plans to get a licence to drive an articulated lorry up and down motorways.
He said he couldn't turn down the prospect of better pay and a bigger vehicle - plus the absence of aggressive passengers.
"I always wanted to do it. But hearing about these labour shortages – yes, maybe it gives me an incentive to get it now rather than later," the 37 year old added.
"With lorries, you've got no passengers hollering at you or trying to get to you through the cab – and a bit more money to help feed my family as well."
News by Reuters, edited by Hospitality Ireland. Click subscribe to sign up for the Hospitality Ireland print edition.
Chef Supper Club Virtual Cinematic Wine Series Announced
A chef supper club virtual cinematic wine series has been announced.
Winerover.ie sommelier Cathryn Bell will the host of the first of the chef supper club's "Potions" virtual cinematic wine series, which will commence on September 23 and run every Thursday for six weeks.
Bell stated, "'Potions' isn't a wine course like you have ever tried before, this is more a global expedition through today's world of wine in conjunction with some of the world's greatest winemakers and viticulturists as our personal guides, which has enabled us to secure very special wines to help tell their stories."
Each episode of the chef supper club will be presented in a mixed format of live tastings and interactive aspects along with food pairing suggestions and stories direct from some of wine's "living legends". The wine course set out by Bell explores the wider context of wine.
The course, on which there are 60 places available, will be broken up over six weeks from September 23 to October 28, and will include 12 bottles, some of which have never been in Ireland before, tasting notes and six live sessions with Bell.
Just Eat Takeaway.com To Leave FTSE-100
Just Eat Takeaway.com will leave the FTSE-100 this month, index provider FTSE Russell has said in its quarterly review of changes to the benchmark.
As reported by The Irish Examiner, Ftse Russell classified Just Eat Takeaway as British after the 2020 combination of Britain's Just Eat and Dutch competitor Takeaway.com, which made it eligible for the FTSE, because the company had said that it would delist its stock from Euronext Amsterdam.
Just Eat Takeaway reportedly backtracked on that earlier this year, which reportedly prompted FTSE Russell to change the company's assigned nationality to Dutch last month.
Emissions Key Topic For Food And Drinks Industries Agenda Setters, According To Bord Bia Survey
The findings of a new Bord Bia survey that undertaken in 13 markets including Ireland to understand emerging trends among "agenda setters" (advocacy groups, policymakers and industry leaders), customers including trade buyers, and more than 11,000 consumers suggest that emissions are a key topic for agenda setters and trade customers including larger retailers, who are setting science-based or net-zero emission targets and "putting pressure on suppliers to reduce emissions and presenting sustainable suppliers with an opportunity to stand out".
As reported by The Irish Times, Bord Bia said that the survey was intended to help promote sustainability among Origin Green's Irish food and drink businesses members, and to help them promote products "based on meaningful, sustainable actions".
Origin Green is a verified national sustainability scheme for the food and drinks sectors.
The findings of the survey reportedly suggest that two thirds of trade buyers globally say that "having the lowest possible greenhouse gas emissions/carbon footprint" is important when choosing a supplier and sustainability is becoming a key purchasing criteria for trade buyers, along with quality, price and supply, and 60% of buyers say that Ireland is a source of sustainably produced food and drink.
Consumers are reportedly less focussed on emissions "as it is currently more difficult to link the carbon footprint to the product on-shelf", but 73% of grocery shoppers globally reportedly say that they are willing to make lifestyle changes to be more sustainable.
Biodiversity is reportedly not on consumers' radar yet when it comes to making purchasing decisions, but according to Origin Green director Deirdre Ryan, as the sustainability agenda becomes more important, the carbon and biodiversity impact of products will become more important to consumers.
Damian Heary of the consultancy company that conducted the survey, Futavista, reportedly said, "We can expect more tipping points that will bring increased consumer and trade buyer focus on big sustainability topics."
Heary reportedly believes that this could be triggered by the outcome of the COP26 global summit in November or increased extreme weather events.
Consumers reportedly currently view food waste and packaging as being the most important sustainability issues, which are more easily solved than to the biodiversity issue, Ryan reportedly added. 77% reportedly indicate that they have made an effort to buy products with less packaging, and 87% reportedly indicate that they have made an attempt to reduce food waste in the past year.
High animal welfare standards and "grass-fed" are reportedly are some of the most important sustainability attributes that can command a premium for beef and dairy consumers. Close to one in four beef consumers globally reportedly say that they are willing to pay a premium for grass-fed beef.
Bord Bia chief executive Tara McCarthy reportedly said that the survey will help the Irish food and drink industry to better understand "how customers and consumers view sustainability, how they can communicate their actions and values in a more impactful way and what areas they need to improve on in the years ahead".
McCarthy reportedly said that, given increased awareness of greenwashing (where organisations rely on green PR or marketing more than concrete measures to demonstrate green credentials), the research makes the clear case for businesses to engage in measurable action backed by transparent data across a range of sustainability issues.
The findings reportedly suggest that the sustainability agenda is happening at a different pace in different countries. There is reportedly a greater focus on local food, and animal welfare is closely associated with sustainability in western European markets, while the focus is reportedly on quality and safety assurance in Asian markets, where there is more of a concern over consistent, nutritious food supply.
Consumers reportedly appear to be looking for greater information around key sustainability issues in some areas, and Bord Bia reportedly believes that this is an opportunity for Irish brands to stand out if they can communicate in a clear way.
Article by Dave Simpson. Click subscribe to sign up for the Hospitality Ireland print edition.