Ibec Calls For Extension Of 9% VAT Rate For Hospitality Sector
Published on Sep 14 2021 8:41 AM in General Industry tagged: Trending Posts / Ibec / 9% VAT Rate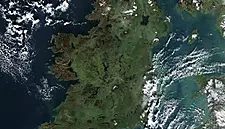 Lobby and business representative group Ibec has called for an extension of the 9% VAT rate for Ireland's hospitality sector.
As reported by The Irish Independent, in a pre-Budget submission published by the Ibec, the group said that Ireland's business model is "at a crossroads", that the government must take steps to improve the country's economic competitiveness and address long-standing infrastructural deficits, that Ireland faces some "unique challenges" in the post-COVID-19 pandemic era.
In its pre-Budget submission, Ibec has reportedly proposed a number of steps that it believes should be supported in the Budget, including €450 million to extend the 9% VAT rate for hospitality and tourism and to allow the on-trade to benefit from it; €100 million m to improve entrepreneurs' capital gains tax relief; €10 million for a proforma R&D tax credit for SMEs; and an additional €112 million for public investment in innovation and research.
Ibec Chief Economist Statements
Ibec chief economist Gerard Brady reportedly said, "We have obvious, longstanding infrastructural deficits, significant government policy commitments in areas like health, pensions and the labour market, and hugely ambitious climate targets to meet.
"All of these will have challenging implications for economic growth, business competitiveness and tax revenues in the months and years ahead. If we can deliver on them, however, they will provide an opportunity to improve Ireland's standing as a place to live, work and invest."
Brady reportedly said that Ireland is also facing "significant competitive threats" to its business model, and, "In today's submission, we are calling on government to focus on the continued competitiveness of Irish business.
"This means underpinning our competitive position as trade costs increase due to Brexit and global economic conditions. It also means promoting business investment and investing in digitalisation and innovation."
Limited Scope And Bar Fund
Ibec reportedly stated that the government has limited scope in the upcoming Budget, with available headroom for spending and tax measures totalling €1.6 billion, and, apart from the €1.6 billion available to the government in the budget, Ibec has reportedly also outlined measures that it believes should be funded using €540 million from the more than €1 billion available to the Exchequer between 2022 and 2023 from the Brexit Adjustment Reserve (Bar) fund.
Ibec reportedly stated that €250 million of the Bar fund should be earmarked as a contingency for the Employment Wage Subsidy Scheme (EWSS), which is running until the end of December, but Ibec reportedly said that the Government should "stand prepared" to extend it into 2022 if necessary.
Ibec reportedly said that €286 million of the Bar fund should be targeted at addressing the "competitiveness challenge of Brexit", and, "Given the majority of the impact of Brexit will be felt in margins and increased trading costs, qualification for schemes cannot be based on a narrow turnover metric. Any scheme based on turnover loss alone is likely to be poorly targeted and ineffective. As such, schemes must include metrics linked to increased costs or decreased margins on sales."
Prepare For Potential Changes In Tax Regimes And Prioritise Investments In Skills
Brady reportedly said that Ireland must prepare for potential changes in global corporate tax regimes and prioritise investments in skills.
Additional Ibec Pre-Budget Submission Information
According to rte.ie, Ibec wants the 9% VAT rate for the hospitality extended until the end of 2023, it has also called on the government to bring forward planned investment in childcare, and it supports the continuation of "warehousing" or deferral of taxes for business, and it also wants to see a €1,000 increase in the entry point to the higher rate of income tax and to index link increases to general wage inflation in future budgets.
Brady Statements On Morning Ireland
Brady reportedly said on RTÉ's Morning Ireland radio programme that there is a need to bolster the economy's competitiveness as it emerges from the pandemic, that the government has already launched a new national development plan for housing and it also has big ambitions in terms of lowering the country's emissions over the coming years, and, "In order to be able to follow through with all of those ambitions over the coming years, we're going to need to see increased investment in the competitiveness of Irish businesses and in the productivity of Irish businesses to make sure that they continue to grow, our members continue to grow and then deliver the tax receipts the government will need."
Brady reportedly added, "If you don't have those two things working at the same time neither will be deliverable and they are possible to do together if you ensure that businesses are competitive and continue to grow by investing in skills and investing in innovation and areas like digitalisation."
© 2021 Hospitality Ireland – your source for the latest industry news. Article by Dave Simpson. Click subscribe to sign up for the Hospitality Ireland print edition.