Ireland's High Court Approves Norwegian Air Survival Plan; Airline Says It Expects Demand For European Short-Haul Travel To Return To Pre-Pandemic Levels In 2023 Or 2024
Published on May 11 2021 3:09 PM in General Industry tagged: Trending Posts / norwegian air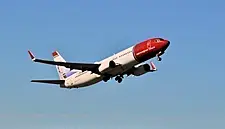 Ireland's High Court has approved a survival plan for Norwegian Air and related companies.
According to The Irish Times, Mr Justice Michael Quinn said in a written decision that he was satisfied to approve the plan, which was put together by Norwegian Air's examiner, Kieran Wallace of audit, tax, advisory, consulting and professional services firm KPMG.
Norwegian Air's Oslo-based parent company and several of its Irish-registered subsidiaries had sought protection from the Irish courts due to factors that included the adverse impact of the COVID-19 pandemic.
The court heard that the group has accumulated debts of $5.2 billion, or €4.3 billion.
According to The Irish Times, Quinn said in his judgment that after analysing the evidence that the examiner put before the court, he was satisfied that if the rescue proposals are confirmed and implemented, the restructuring achieved will facilitate the ongoing survival of the companies as going concerns.
Quinn added that the proposals "achieve for members, creditors and others, including employees, an outcome more favourable than would arise if the companies were wound up."
Quinn noted that the survival plan had been approved by the members of each of the companies within the group as well as by at least one class of creditors, and the court stated that there was not any suggestion that the sole or primary purpose of the proposals is avoiding tax payment, and that there was not any suggestion that the proposals were put forward for any improper purpose.
The proposals were said to be fair and equitable in relation to each class of creditors that has not accepted the proposals and whose interests or claims will be impaired by implementation.
Quinn also reportedly said that the proposals are not unfairly prejudicial to the interests of any interested party, and added, "The evidence of the examiner, which has not been contested, is that he is confident that the investment required to implement the proposals can be secured such that the purpose of the proposals can be achieved."
Quinn also reportedly added that "unusually, the court is being asked to confirm the proposals in circumstances where a series of further steps need to be implemented, including, most critically, the raising of the funds necessary to implement the proposals."
Quinn reportedly said that the examiner, based on his account of engagement with the companies, with certain significant investors, and the evidence of the support for the investment by the Norwegian government, and members' and creditors' support, would be able to secure the required level of investment.
Quinn reportedly added that he was also satisfied that the companies are viable going forward, and the court was satisfied to approve the scheme of arrangement in all of the circumstances.
All of the below news by Reuters, edited by Hospitality Ireland.
Previously, on April 12, Norwegian Air said that it had won approval from creditors in Norway to restructure its debt and an Oslo court had approved the plan, clearing the way for it to raise new capital and emerge from bankruptcy this month.
Financed largely by debt, Norwegian Air grew rapidly, serving routes across Europe and flying to North and South America, south-east Asia and the Middle East before the COVID-19 pandemic plunged the airline into crisis.
Its survival plan announced last year brings an end to its long-haul business, leaving a slimmed-down carrier focusing on Nordic and European routes.
"Today the judge of the Oslo Byfogdembete [County Court] has approved the scheme for an exit of the reconstruction of the company," Norwegian Air said in a statement on April 12.
Norwegian plans to cut its fleet to 53 jets from 140 before the pandemic and slash its debt to 20 billion Norwegian crowns ($2.4 billion) from 56 billion.
"We are very pleased with this important positive decision by the court," Norwegian Air CEO Jacob Schram said following the April 12 ruling.
On April 12, the airline sad that its next step was to raise at least 4.5 billion crowns from new shares and hybrid capital, of which Norway's government had said it was willing to contribute 1.5 billion.
Norwegian has said it aims to exit the restructuring process on May 26, once it had secured new funding.
On April 14, Norwegian Air was reportedly aiming to raise up to six billion crowns ($711 million) in fresh capital, up from the planned 4.5 billion, to bolster its resources before emerging from bankruptcy protection next month as the pandemic continues to curb travel.
"We want to take a conservative approach at a time when the pandemic and travel restrictions continue to create unpredictability in the travel sector," Schram said in a statement on April 14.
Courts in Oslo and Dublin had previously given their approval for Norwegian to sharply cut its debt by converting it to stock, but the rulings were conditional on the airline raising at least 4.5 billion crowns in additional funds.
"We must take this uncertainty into account in our forward planning strategy. At the same time, we have also taken into consideration feedback from investors, as well as dialogue with our board," Schram said on April 14.
Norwegian said that certain investors had agreed to inject 2.86 billion crowns via a share issue, and that current creditors were expected to buy new perpetual bonds worth at least 1.8 billion.
As mentioned above, Norway's government had separately said that it was willing to invest 1.5 billion crowns in hybrid capital.
Norwegian Air faces increased competition at home, not only from SAS and Wideroe, but also from new start-up Flyr, which is expected to launch its first flight in Norway by mid-year.
Norse Atlantic Airways was also recently set up by a group of industry veterans, including Norwegian Air founder and former CEO Bjoern Kjos, to offer long-haul services.
Norwegian's debt will be cut to between 16 billion and 20 billion crowns, the company said on April 14, 62 billion to 65 billion crowns less than end-2019 levels.
Norwegian is advised by Seabury Securities and DNB Markets.
Expecting A Return To Pre-Pandemic Demand Levels In Europe In 2023 Or 2024
On April 29, Norwegian Air said that it expects demand for European short-haul travel to return to pre-pandemic levels in 2023 or 2024, as it presented a first-quarter pre-tax loss of 1.19 billion crowns ($145 million).
"It is not expected that demand for short-haul travel in Europe will return to 2019 levels before 2023 or 2024 and so Norwegian will deploy capacity back into the market at a pace that matches this," the airline said in a statement.
The carrier is currently operating nine aircraft, mainly on Norwegian domestic routes.
Once travel restrictions lift, it plans to ramp up operations to a peak of approximately 50 short-haul aircraft in 2021 and approximately 70 short-haul aircraft in 2022, it said on April 29, down from approximately 160 before the pandemic.
Of the bankruptcy protection process, Norwegian Air said that it is nearing "successful completion" both in Ireland and Norway.
The capital increase is due to close "on or about" May 26, it added, referring to the aforementioned date on which Norwegian Air is due to leave the Irish examinership and the Norwegian reconstruction processes.
Expecting $843m Cash Position Post Capital Hike
On May 3, Norwegian Air said that it expects to have a cash holding of seven billion crowns ($843 million) if it manages to raise the full amount of capital it is seeking this month.
As mentioned above, Norwegian is aiming to raise six billion crowns in fresh capital as part of a scheme to emerge from bankruptcy protection in Ireland and Norway on May 26.
The cash will come from a mix of perpetual bonds and equity, with the new shares sold at only 6.26 crowns each, a steep discount to the 55.25 crowns it trades at in Oslo.
The airline said that it expects total liabilities to be approximately 16 billion to 18 billion Norwegian crowns, of which approximately a third is aircraft-related debt, after the process is completed.
Norwegian said on May 3 that it had support from "cornerstone" investors such as the asset management arms of Nordic banks Nordea and DNB and Geveran Trading, an investment vehicle of shipping magnate John Fredriksen.
The domestic pension fund of the Norwegian state, Folketrygdfondet, is also among them. Norway had said that it would take part in the capital raise.
Article by Dave Simpson. Click subscribe to sign up for the Hospitality Ireland print edition.