Irish Air Traffic In August Was 53% Of Level Recorded For Same Month In 2019
Published on Sep 9 2021 9:52 AM in General Industry tagged: Trending Posts / Dublin Airport / DAA / Nordic Aviation Capital / Eurocontrol / NAC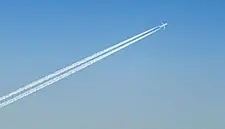 The total number of flights that travelled into, out of, within and over Ireland in August was 53% of the level recorded for the same month in 2019, before the COVID-19 pandemic.
As reported by rte.ie, international arrivals and departures were 47% of the level in the same month two years ago, compared to a European average of 55%.
However, data released by European air traffic control body Eurocontrol reportedly shows that domestic flights within Ireland rose to 92% of pre-pandemic levels in August, which reportedly compares to 74% across European airspace.
Overflights that cross through Irish airspace without landing were reportedly 57% of the level that they were in August of 2019, compared to an European average of 77%, and overall, the Eurocontrol data reportedly shows that across European airspace, flight volumes were 71% of 2019 levels last month.
Eurocontrol reportedly said, "This average, however, conceals a wide variation between countries and also between different traffic flows for each country."
Dublin Airport Passenger Traffic
The above news follows news from earlier this week that the number of people that passed through Dublin Airport decreased by 63% when compared to pre-COVID-19 pandemic levels, to close to 1,260,000.
As reported by The Irish Independent, while the August holiday-season figures indicate that air travel is ramping up again, the figures for Dublin Airport for August show that 43% of all the passengers who travelled through the airport during the first eight months of 2021 did so in August alone.
DAA Head Of Communications Statements
The head of communications at Dublin and Cork airports operator DAA, Kevin Cullinane, reportedly said that COVID-19 has had a hugely decimating impact on aviation globally, and that the recovery has only started in Ireland since non-essential travel restrictions were lifted on July 19.
The Irish Independent quotes Cullinane as saying, "It's going to be a very slow, gradual recovery. Most industry commentators at this stage are forecasting it's going to take three to four years to restore passenger numbers on international travel back up to the lofty heights of 2019 so we're looking at 2024/2025 before we'd see a full restoration of passenger numbers to those figures again."
Cullinane reportedly said, "As the vaccination programme has been accelerating here in recent weeks, we're seeing a gradual increase in passengers bearing in mind for the month of August people would have been trying to take a last-minute holiday break and other continental destinations might have featured more prominently than the UK but people have been trying to reconnect with family and friends again."
Cullinane reportedly also said that the figures for Dublin Airport for August give a very good indication of the decrease in passenger numbers across all destinations that are served by Dublin Airport.
Limerick-Based Aircraft Lessor NAC Mulling Restructuring Options
In other Irish aviation news, as also reported by The Irish Independent, Limerick-headquartered aircraft lessor Nordic Aviation Capital (NAC) is mulling restructuring options and has lined up a PWC executive to handle a possible examinership process in Ireland.
The company, which is reportedly the world's largest lessor of regional aircraft, has reportedly been hit hard by the COVID-19 pandemic and has reportedly been attempting to juggle a $6 billion (€5 billion) debt pile.
The Irish Independent reportedly understands that NAC remains locked in talks with its creditors, of which there are reportedly close to 100, ahead of the expiration of a September 20 forbearance extension that was reportedly secured earlier in the year to a debt agreement that was inked last year.
It is reportedly understood that those talks are continuing to be productive.
NAC reportedly declined to comment when contacted by The Irish Independent.
The Irish Independent reportedly first revealed in March that NAC was considering restructuring options including Chapter 11 bankruptcy in the US for some of its units there.
However, it is reportedly almost certain that while options including examinership remain on the table, the most favoured outcome would be to strike a deal with creditors without having to avail of them, and it is reportedly believed that an examinership process in Ireland, if it were to proceed, would be handled by PwC's Declan McDonald.
Scheme Of Arrangement
NAC, which reportedly has a fleet of almost 500 turboprop and jet aircraft, has reportedly continued to place planes with customers amid a revival in air travel, and reportedly successfully completed a scheme of arrangement last year, with shareholders including a vehicle controlled by the family that owns Lego reportedly agreeing to inject $60 million (€50 million) into the company.
The scheme reportedly also secured agreement from lenders for a standstill and deferral agreement that covered tens of millions of dollars of certain interest and principal payments that were due over the following months on its $6 billion in debt.
Additionally, the scheme reportedly enabled NAC to defer its principal payments for nine months and interest payments on aircraft financing for five months, while interest payments on other term loans could reportedly be deferred for about 17 months, and it reportedly also extended the maturity of each of the loans for an additional year from the original scheduled maturity date.
NAC Head
NAC is headed by Patrick de Castelbajac, who is a former chief executive of plane maker ATR, which is a joint venture between Airbus and Italy's Leonardo.
© 2021 Hospitality Ireland – your source for the latest industry news. Article by Dave Simpson. Click subscribe to sign up for the Hospitality Ireland print edition.