Liquidators Appointed To Stobart Air; Several Airlines Could Bid For PSO Routes Formerly Operated By Stobart; Aer Lingus To Receive Penalty Payment Due To Early Termination Of Stobart Contract
Published on Jun 16 2021 12:06 PM in General Industry tagged: Trending Posts / Aer Lingus / Stobart Air / Aer Lingus Regional / Esken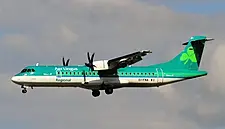 The High Court has appointed Deloitte Ireland partners Ken Fennell and Mark Degnan as provisional liquidators to former Aer Lingus Regional service operator Stobart Air, which ceased trading several days ago.
As reported by The Irish Times, Aer Lingus has confirmed that it will fly five routes formerly operated by Stobart - Dublin to Edinburgh and Manchester, and Belfast City Airport to Birmingham, Edinburgh and Manchester - until at least July 19, and BA City Flyer has said that it will operate Belfast City to Exeter and Leeds Bradford services.
Aer Lingus reportedly maintained that the replacement schedule ensures that "all impacted customers due to travel in the next week" have been offered alternatives, and added that where suitable alternatives are not available, customers are entitled a full refund.
According to The Irish Times, The High Court heard that a 94% fall in passengers due to the COVID-19 pandemic back cost Stobart Air €19.2 million in lost revenues last year, and lawyers for Stobart Air reportedly told Ms Justice Miriam O'Regan that the company has a €37 million deficit and was unable to pay its debts as they fell due.
O'Regan reportedly said that in the circumstances it was appropriate to appoint Fennell and as joint provisional liquidators to Stobart Air, and urged that worker's redundancy claims be dealt with swiftly.
The matter is reportedly due back in court on July 5.
Stobart Air employed 480 people.
PSO Routes
The Irish Government is reportedly hopeful of re-establishing publicly-subsidised air routes between Dublin and regional airports in Donegal and Kerry before the planned resumption of international travel on July 19.
According to The Irish Times, sources have said that the coalition is planning to undertake a rapid procurement process for the routes, and it is envisaged that an operator would take over both routes for seven months, after which a new public service obligation contract is due to commence.
Aer Lingus has reportedly indicated that it is "ready" to operate the Dublin/Kerry route, "subject to an appropriate PSO arrangement being put in place", and reportedly said that it is "actively exploring options that would enable the provision of a Dublin/Donegal service".
It is reportedly understood Estonian state-owned airline Nordica has also offered to operate Kerry/Dublin route, that the preference in the government is for an operator to take on both routes on, and for the current level of provision and flight frequency to be maintained.
According to The Irish Times, several airlines including Aer Lingus could bid for public service routes linking Dublin with Donegal and Kerry that were halted when Stobart Air ceased trading, and the government will seek bids within days from airlines that are interested in providing the state-subsidised public service routes that link Dublin with Donegal and Kerry airports.
It is understood by The Irish Times, that another Irish carrier, ASL, is also likely to look at the tender for the routes when it is issued, before deciding if it will bid.
ASL's European business is heavily focused on cargo, but the company is reportedly known to be interested in providing passenger services. However, it reportedly may still choose to concentrate on its cargo business in the short term.
Officials reportedly expect to complete the bid process in July, allowing the successful bidder to commence services soon after, and the contract will be valid for a maximum of seven months.
Stobart Air's contract to operate Aer Lingus Regional services was due to end in December of this year. The Department of Transport reportedly conseqeuntly will launch a separate process to recruit an airline to operate the services from the start of 2021.cargo business in the short term.
Stobart Air reportedly received €3 million a year from the state for operating the PSO services, and Department of Transport figures reportedly show that 16,908 people travelled on the Kerry/Dublin-route last year while 14,649 flew on the Donegal/Dublin route.
However, as reported by The Irish Times, that 31,557 total was approximately one third of the 95,735 passengers who flew on the routes in 2019.
According to the Department of Transport, 58,021 people flew on the Kerry/Dublin in 2019 and 37,714 flew on the Donegal/Dublin route.
Caught Unawares And Penalty Payment
According to The Irish Independent, Aer Lingus was caught unawares by the cessation of Stobart Air's trading as there had been a communications breakdown at a senior level between the two airlines.
According to The Irish Times, it has emerged that Aer Lingus is due to receive a penalty payment as a result of Stobart Air's contract to provide Aer Lingus's regional services being terminated before it was due to end.
Stobart Air's majority owner, aviation and energy infrastructure group Esken, said it in a statement that it remains responsible for "certain obligations to Aer Lingus under the franchise agreement" that became payable after it was terminated.
According to The Irish Times, neither Esken nor Aer Lingus have commented or provided details of the amount due yet.
Esken noted that the guarantees were given in 2017 and were the reason that it reacquired Stobart Air from Connect Airways in early 2020.
According to The Irish Times, Esken guaranteed the leases on Stobart Air's 13 aircraft, which are leased from a related company called Propius, which rents them from Goal Leasing, and Stobart Air directly leases three aircraft from Nordic Aviation Capital as well as two from GE Capital Aviation Services.
Esken reportedly calculated that it could face a bill of £18 million in its current financial year if it failed to sublet the aircraft, and said that it will not fund the airline indefinitely, and told the Stobart board on Friday June 11 that it can no longer finance the airline.
© 2021 Hospitality Ireland – your source for the latest industry news. Article by Dave Simpson. Click subscribe to sign up for the Hospitality Ireland print edition.