Lufthansa Faces Hundreds of Lost Flights as Pilots Extend Strike
Published on Sep 8 2015 10:37 AM in General Industry tagged: Lufthansa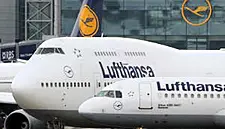 Deutsche Lufthansa pilots who went on strike at the carrier's long-haul business Tuesday will seek to paralyse operations at its short-haul arm Wednesday in a move aimed at causing maximum disruption in a dispute over cost cuts.
Lufthansa will have to cancel hundreds of flights after the Vereinigung Cockpit union said that today's walkout by air crew specialising in wide-body planes would be followed by pilots who fly Airbus Group SE A320, Boeing Co. 737 and Embraer SA jets.
Pilots have resumed industrial action six months after 12 rounds of strikes ended as management and unions came together in the wake of a crash at Lufthansa's Germanwings arm. Chief Executive Officer Carsten Spohr, who said last week he's ready to endure more strikes to compete with low-cost carriers and Persian Gulf rivals, has already twice cut earnings guidance.
"The financial damage is increasing," Dirk Schlamp, an analyst at DZ Bank in Frankfurt, said in a note, adding that there is a "relative high likelihood" of further action that will also take a reputational toll on Lufthansa.
Bettina Volkens, the Lufthansa board member for human resources, said in a statement that each strike diminishes the scope for finding a solution to the conflict. The first walkout was in April 2014, with the most-recent before this week coming three days before the March 24 crash in the French Alps.
Lufthansa was forced to begin scrapping flights Monday just to cope with today's action, and the Wednesday walkout is likely to extend disruption into Thursday at least. The strike will include flights at Germanwings which are due to replace ones currently operated by the main airline -- a switch that's at the heart of Spohr's plans to pare expenses.
September is generally an important month for carriers, with the end of the vacation season coinciding with a surge in business travel. Lufthansa said the walkout will hit families returning from vacation, with the summer break ending in two of Germany's largest states this weekend.
Pilots must pitch in like other groups to help Lufthansa become more competitive, the company has said, while the union aims to prevent aircraft and flight deck jobs being moved beyond the mainlinebrand and even to Austria, where the group has created a low-cost subsidiary.
Lufthansa plans to publish an amended schedule for Wednesday on Tuesday afternoon.
News by Bloomberg, edited by Hospitality Ireland