New 'Market-Style' Eatery To Open in Dublin Airport
Published on Jun 24 2015 12:48 PM in General Industry tagged: Dublin Airport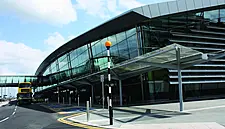 A major development is underway at Dublin Airport's Terminal 1 as a new 'market-style' dining area is currently under construction.
The new food and beverage area, which will bring over 80 new jobs to the airport, will be in Terminal 1 after the security screening, according to the Irish Independent.
The 'Marquette', as it will be named, will open in August this year and will cater to over 260 people, where customers can expect a selection of fresh and locally-sourced produce and other food and beverage offerings.
Brendan Dee, Dublin Airport's food and beverage manager, said Marquette will have a "earthly, rustic setting", and operate from 5am to the last flight time.
"The restaurant has been designed specifically for good customer flow to ensure people are served quickly," added Dee.
The new food and beverage area is part of the ingoing, €8 million redevelopment of the retail area inside T1, The Loop.
Jobs being recruited include chefs, kitchen porters, bar staff and restaurant staff.