NI Hospitality Sector Suffering From Staff Shortages; Limit Of Numbers Permitted At Tables In NI Hospitality Venues To Be Removed; Cork Training Centre To Host Hospitality Skills Training Webinar
Published on Aug 13 2021 11:52 AM in General Industry tagged: Trending Posts / Hospitality Ulster / Cork Training Centre / Cork Education and Training Board / Outdoor Dining / outdoor drinking / indoor dining / indoor drinking / BDO NI / CTC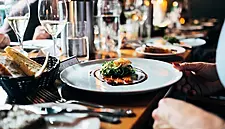 Thousands of hospitality sector workers in Northern Ireland have chosen to quit their jobs in hospitality and pursue new careers, according to a survey undertaken by accountancy firm BDO NI and Hospit...
Thousands of hospitality sector workers in Northern Ireland have chosen to quit their jobs in hospitality and pursue new careers, according to a survey undertaken by accountancy firm BDO NI and Hospitality Ulster between June 29 and July 22.
As reported by The Irish News, the survey found that 74% of Northern Ireland's hospitality sector continues to struggle with staffing issues, with staffing shortage issues having been intensified by the COVID-19 pandemic.
45% of recipients reportedly indicated that they are planning to invest in the next six months and that there needs to be a concerted effort to address the hospitality sector's recruitment issues or they will abandon their plans.
Meanwhile, four out of five Northern Irish hospitality businesses reportedly see rising business costs as a significant risk while 42% reportedly feel confident about their future prospects.
The Irish News quotes BDO NI managing partner Brian Murphy, who also chairs the Hospitality Industry Group, as saying, "The pandemic has had a dramatic impact on us all, both socially and economically, and it is only through great sacrifices that we have been able to progress to the point now where there is the potential of getting back to a new normal.
"Faced with the challenges of the last 16 months, it's heartening to see that businesses, employees, suppliers, banks and government have all come together to work in partnership to plot a course through the pandemic.
"But with so much investment of time, money, and effort to get to this point, it would be a further tragedy if we were to allow businesses to fall at this final hurdle."
The Irish News quotes Hospitality Ulster head Colin Neill as saying, "The future sustainability of our entire industry is at risk. Many businesses have burnt through cash reserves and any government support they could get, and we are still being denied the ability to be fully open, unhindered, and trading at a viable level.
"This, coupled with rules around staff isolation policy, is also creating a significant burden on being able to open at a time when we should be building back and placing emphasis on the recovery and revitalisation."
Neil reportedly added, "An accelerated pathway out of the pandemic is now imperative, because our sector is far too important to the local economy to not be given the attention it requires by the Executive. We urgently need a dedicated hospitality recovery strategy."
Limit Of Numbers Permitted At Tables In NI Hospitality Venues To Be Removed
The above news came as the Northern Ireland Executive announced that from Monday August 16, the limit of numbers permitted at tables in hospitality venues will be removed, which will also apply to post-marriage celebrations, and conference centres can reopen, allowing conferences and exhibitions to resume.
ROI Hospitality Staff Shortages And Training And Recruitment Programmes
The above news also follows news from earlier this week that the latest figures from the Department of Social Protection in the Republic of Ireland show that 37,000 hospitality workers in the Republic are still on the Pandemic Unemployment Payment (PUP) as the sector is continuing to suffer from staff shortages, as well as news that Minister for Further and Higher Education, Research, Innovation and Science Simon Harris has launched two training initiatives that are being delivered by Kildare and Wicklow Education and Training Board (KWETB) to help meet employer demands in Ireland's hospitality, tourism and catering sectors and news that a new suite of third-level education programmes has been launched to encourage the retention and recruitment of talent for the tourism and hospitality sector.
Cork Training Centre To Host Hospitality Skills Training Webinar
Additionally, Cork Training Centre, a campus of Cork Education and Training Board, has announced that it will host a free informational hospitality skills training webinar on Wednesday September 1 at 8am to provide details on a range of subsidised courses available for employers and employees, allowing both to upskill or reskill in the workplace, and to find out more about hospitality training and leadership development programmes for hospitality staff through skills to advance funding.
Cork Training Centre assistant manager Valerie Cowman stated, "Cork Training Centre is dedicated to providing multiple options for further education. Our overall goal is to help both employers and employees to fulfil specific business and career goals. Our needs analysis service provides employers with insightful information regarding the growth potential of their business, while our wide range of courses opens up doors for individuals in search of new opportunities.
"Furthermore, we supplement our in-house training with a wide range of courses conducted on contract by private training providers. These courses serve as a rapid response to locally identified skills gaps, so we would encourage employers or business owners with specific training needs to get in touch with us."
Further information about the hospitality skills training webinar can be found at www.corktrainingcentre.ie/skills-to-advance-initiative/.
© 2021 Hospitality Ireland – your source for the latest industry news. Article by Dave Simpson. Click subscribe to sign up for the Hospitality Ireland print edition.