Ryanair CEO Takes Pay Cut; Airline Launches Digital Carbon Calculator; Announces Cabin Crew Recruitment Drive
Published on Jul 30 2021 11:29 AM in General Industry tagged: Trending Posts / Ryanair / Crewlink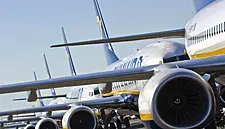 According to Ryanair's newly-published annual report, Ryanair paid its chief executive, Michael O'Leary, more than €2 million in salary and share options during the 12 month period that ended on March 31.
As reported by The Irish Times, according to the airline's annual report, O'Leary took a 50% pay cut to €250,000 and received no cash bonus while Ryanair dealt with the impact that COVID-19 pandemic-related travel restrictions had its business during its last financial year, which ended on March 31.
The annual report reportedly shows that O'Leary was paid a €250,000 salary for the 2021 financial year, which was half of his agreed basic salary of €500,000.
The figures reportedly include a €1.78 million non-cash charge to account for 10 million share options that were granted to O'Leary over the life of a five-year contract that he agreed with Ryanair Holdings in February of 2019.
The annual report and filings with the US stock market regulator, the Securities and Exchange Commission, reportedly confirm O'Leary took a 50% pay cut to €250,000 for the airline's last financial year, and he received no cash bonus for Ryanair's last financial year.
Ryanair reportedly paid O'Leary a €458,000 cash bonus for the financial year that ended on March 31, 2020, which reportedly prompted approximately one-third of shareholders to vote against the company's remuneration report, which gives investors a say on executive pay, at its annual general meeting (AGM) in September of 2020.
The Ryanair board's remuneration committee is reportedly planning a review of senior managers' pay for the next five years, according to the annual report, which reportedly states that the committee is planning the move as Ryanair emerges from the COVID-19 crisis and commences a five-year growth plan with the aim of expanding the number of passenger that the airline carries to 200 million per year and taking delivery of 210 new Boeing jets.
The committee is reportedly planning to hire specialists during the second half of its current financial year.
The report reportedly states, "The purpose of this exercise is to ensure that group chief executive officer and senior management remuneration continues to be aligned to the group's strategy, long-term interests and sustainability goals, while promoting retention and succession planning."
The report reportedly adds that any material changes will be put to the next appropriate AGM.
The above news follows news from earlier this week that Ryanair experienced a first quarter net loss of €273 million.
Digital Carbon Calculator
In other Ryanair news, the airline has announced that it has launched a digital carbon calculator to enable its customers to fully offset their emissions on its flights.
Ryanair stated on its website, "This new feature will calculate the carbon emissions per passenger on every Ryanair route and will allow customers to pay the full carbon cost of their flight contributing to environmental initiatives.
"With this development, Ryanair is delighted to expand its carbon offset programme which currently allows customers to contribute €2 towards carbon offset projects. These contributions support several environmental initiatives, including Renature Monchique - a reforestation project in the Algarve; the distribution of energy-efficient cookstoves in Uganda by First Climate; Balikesir's Wind Power Plant Project in Turkey; and improved kitchen regimes in Malawi powered by CO2 Balance (the latter two in partnership with Shell).
"Since Ryanair's voluntary carbon offset scheme commenced, customers have contributed over €3.5 million to environmental projects and Ryanair believes the expansion of its carbon offset programme will be greatly welcomed by its customers throughout Europe. Ryanair already has the lowest CO2 emissions per passenger/km of any major airline in Europe (66g), and by switching to Ryanair, passengers can now further reduce their CO2 emissions.
"Although Ryanair's CO2 emissions per passenger/km are already the lowest of any major EU airline, it believes that aviation must play a leading role in addressing climate change, and is placing an increased emphasis on mitigating how its business impacts the environment. By 2030, Ryanair's goal is to power 12.5% of its flights with sustainable aviation fuels. This together with the $22 billion investment in new Boeing 737 8-200 'Gamechanger' aircraft will significantly reduce its CO2 and noise emissions over the next decade and help Ryanair achieve its aim of being a carbon neutral airline by 2050."
In a statement published on Ryanair's website, Ryanair director of sustainability at Ryanair Thomas Fowler said, "Hundreds of thousands of Ryanair customers every year are already choosing to contribute and support the environment by selecting carbon contribution at their time of booking. The expansion of our Carbon Offset Scheme to enable our customers to fully offset the CO2 of their Ryanair flight will greatly enhance the capabilities of each of our environmental partners who are actively working on carbon offsetting programs.
"Sustainability and environmental impact are considered in every business decision made in Ryanair and we are truly dedicated to being a net carbon neutral airline by 2050. Ryanair has the youngest fleet age of any major airline and this will further reduce now that we have taken delivery of our first Boeing 737-8200 'Gamechanger' aircraft, which are more fuel efficient [burning 16% less fuel per seat]; will lower noise emissions by 40%; and have eight more seats per aircraft. Ryanair has set a goal to power 12.5% of all flights with sustainable aviation fuels by 2030, having recently announced a partnership with Trinity College Dublin to engage in best-in-class research on this. We only operate point-to-point routes, have industry leading load factors and are delighted to have already removed over 80% of non-recyclable plastics from our flights.
"Ryanair is committed to being a net carbon neutral airline by 2050 and the expansion of our offset scheme will further pave our way to achieving this goal while helping our environmental partners further their carbon reduction programmes."
Recruitment Drive For Cabin Crew
Ryanair has also announced a recruitment drive for cabin crew for its Dublin base as it recovers and rebuilds from the COVID-19 pandemic.
The airline stated on its website, "Ryanair has renewed its partnership with Crewlink, who specialise in the recruitment & training of cabin crew. Training will take place at a new, state-of-the-art cabin crew training centre in Santry, Dublin for cabin crew positions based in Dublin.
"Ryanair has now taken delivery of its first Boeing 737-8200 'Gamechanger' aircraft, which help Ryanair lower costs, cut fuel consumption and lower noise and CO2 emissions. This investment in new aircraft deepens Ryanair's environmental commitment as Europe's greenest, cleanest major airline and also creates these new cabin crew job opportunities."
In another statement published on Ryanair's website, Ryanair deputy director HR - head of talent Mark Duffy said, "We are delighted to announce this cabin crew jobs drive with positions available in Dublin as well as other Ryanair bases across Europe & the UK, working with our cabin crew recruitment partner, Crewlink. These exciting opportunities offer candidates the chance to secure the best cabin crew jobs in aviation and the chance to work with Europe's largest airline, where hard work is rewarded with fast track career opportunities. Ryanair cabin crew enjoy free training; great pay; industry leading five on, three off rosters; outstanding career development; and world class training.
"Throughout the pandemic, Ryanair has worked closely with our people to save jobs and we are delighted to start planning for a return to growth over the coming years as we recover from the COVID-19 crisis and grow to 200 million guests by FY2026. Suitable candidates should have excellent customer service skills and love to travel."
© 2021 Hospitality Ireland – your source for the latest industry news. Article by Dave Simpson. Click subscribe to sign up for the Hospitality Ireland print edition.