Ryanair Director Of Sustainability And Finance Says Electric Planes Will Not Be Viable For Airlines Within Next 15 Years
Published on Oct 5 2021 12:00 PM in General Industry tagged: Ryanair / easyjet / United airlines / Rolls Royce / Airline Industry / electric planes / Wright Electric / Heart Aerospace / Aviation Investor Forum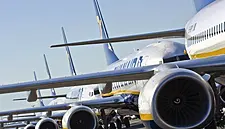 As reported by The Business Post, a director of sustainability and finance at Ryanair, Thomas Fowler, has said that electric planes will not be viable for the aviation travel industry within the next 15 years.
Several big players in the aviation sector, including Airbus, EasyJet, Boeing and United Airlines, are investing hundreds of millions in the "electric plane race" in a bid to offset their large carbon footprints.
Alternative Fuels
The airline industry generates more than 600 million tons of carbon dioxide annually.
The number of flights a year is expected to double within the next two decades, which could result in the sector consuming a quarter of the world's carbon budget by 2050.
Earlier this year, Ryanair linked up with Trinity College Dublin as part of a project to investigate more sustainable fuel options at the Ryanair Sustainable Aviation Research Centre.
The airline has invested €1.5 million in the partnership, which will also look into the possibility of using vegetable oils and plant waste to power its fleet.
The move is part of Ryanair's bid to operate one in eight flights on sustainable fuels by 2030.
Last week, speaking at the Aviation Investor Forum, run by Goodbody, Fowler reportedly said that electric planes are very unlikely to contribute to Ryanair's plans to decarbonise its fleet in the medium-term, and, "I think electric planes will come in the longer term. In the medium-term, I don't see something like that helping us."
He reportedly added that based on the current technology being developed, electric planes are only likely to provide short-range flight options, and, "That makes it a little bit more challenging in how it would work in our operation. I don't think there have been enough big wins with the engine technology advancement yet.
"I think electric planes have a role to play, but not in the next 15 years. We need a little bit more advancement and will take a lot more breakthroughs to get it over the line."
Testing Electric Planes
Last month, Rolls Royce completed the first 15-minute flight of its electric plane in Britain.
The test flight marked the start of the company's extensive testing of electric plane capabilities.
Rolls Royce ultimately aims to achieve speeds of over 300 miles an hour in its aircraft, which is run on three electric motors that could allow it to achieve a 90 per cent energy-efficient flight.
Another firm investing significantly in electric plane testing is EasyJet, which is one of Ryanair's biggest rivals.
It has partnered with Wright Electric to develop electric flight technology, while Nasa is also investing hundreds of millions of dollars in electric plane start-ups.
In July, United Airlines revealed it has invested in Swedish electric aircraft start-up Heart Aerospace and committed to acquire 100 of its vehicles.
The company reportedly said that it is confident that the 19-seat electric aircraft can be brought to market by 2026.
© 2021 Hospitality Ireland – your source for the latest industry news. Article by Conor Farrelly. Click subscribe to sign up for the Hospitality Ireland print edition.