Ryanair Records First Quarter Net Loss
Published on Jul 26 2021 2:00 PM in General Industry tagged: Ryanair / Boeing / COVID-19 / Irish Air Travel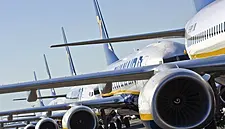 Ryanair nudged up its forecast for full-year traffic on strong summer bookings but said that fares remain well below pre-COVID-19 pandemic levels as it reported a first quarter net loss of €273 million.
The Irish airline, Europe's largest low-cost carrier, said it expected to fly between 90 and 100 million passengers in its financial year to end-March 2022, up from an earlier forecast of 80-100 million.
Bookings Surge
A surge in bookings saw traffic increase from around one-third of 2019 levels in June to a forecast two-thirds in July, the airline indicated.
At least 10 million passengers are expected in August and September, around 70% of pre-pandemic levels, CFO Neil Sorahan said.
Rival easyJet last week said it hoped to ramp up capacity to 60% of 2019 levels in the July-September quarter.
"We've been encouraged by closing bookings, over the past number of weeks, particularly since the European Digital COVID certificate has been rolled out," Sorahan said in a presentation to investors.
"So on that basis we're now improving our traffic guidance."
Ryanair flew 27.5 million passengers in the year to March 2021, down from a pre-COVID-19 peak of 149 million.
Sorahan said the airline may beat its forecast of 150 million next year.
The collapse of some rivals and capacity cuts planned by others are likely to reduce European short-haul capacity by about 20% over the next two years, Ryanair Group chief executive Michael O'Leary said.
That will allow Ryanair to expand rapidly while increasing fares, he said.
10 Boeing MAX that were delivered in recent weeks are performing "spectacularly", he said.
"I don't think, certainly in my 30 years in this industry, post 9/11, post Cold War, there has never been a growth opportunity in front of Ryanair such as we have at the moment," O'Leary said.
The number of its flights serving primary rather than small regional airports is likely to increase to 80% from 70% currently, he said.
The loss of €273 million for the three months to the end of June was slightly better than the €283 million loss forecast by a company poll of analysts.
But Ryanair said it remained impossible to provide a meaningful profit forecast for the financial year to end-March 2022, reiterating that the airline was cautiously expecting to post a small loss or break even before a strong recovery next year.
Ryanair's average fare was €24 in the April-June quarter down from 36 euros in the same quarter of 2019.
Revenue for optional extras grew, however, increasing to €22 from €19 as cautious passengers paid to choose their seats and board more quickly.
The average number of empty seats is likely to fall from 27% in the April-June quarter to a more normal level of under 10% during the first half of next year, Sorahan told Reuters in an interview.
Ryanair, which has one of the strongest balance sheets in the airline industry, said it had cash reserves of €4.06 billion, up from €3.15 billion at the end of March following a €1.2 billion bond sale in May.
O'Leary said he did not expect to distribute any cash to shareholders over the next year or two due to large capital expenditure on an order of 210 Boeing MAX200 jets, which he said were performing better than expected since they entered the fleet last month.
Boeing MAX 10 Order
Ryanair remains in talks with Boeing about a significant order of the slightly larger MAX 10 jet for delivery from 2026, and the airline may do a deal later in the year, Sorahan said.
Ryanair could place an order for the aircraft this year, but only if the price is right as the airline is not under any time pressure, Sorahan said.
A large order from Ryanair, Boeing's largest European airline customer, would provide a major boost to the MAX, which was grounded for 20 months after two fatal crashes.
Ryanair is already the largest European customer for the MAX, with 210 firm orders of the 197-seat MAX200 model.
It has repeatedly said it is interested in a significant order of the larger 230-seat MAX 10, which took off on its maiden flight in June.
"Maybe the back end of the year we will do something. Maybe not. It's all predicated on price," Neil Sorahan told Reuters in an interview on the publication of the airline's results for its April-June quarter.
"If the price is right, we're interested but it's a post FY26 time frame so we are under no time pressure there," he said, referring to the airline's financial year to March 31, 2026, when its current order ends.
In a presentation to investors O'Leary said the MAX 10 was something the airline would "revisit with Boeing maybe towards the end of the year."
"We think the MAX 10 is a great aircraft, but you know we are very disciplined in Ryanair we will only place orders when we think the price is right," O'Leary said.
News by Reuters, edited for Hospitality Ireland by Conor Farrelly. Click subscribe to sign up for the Hospitality Ireland print edition.