Ryanair Reportedly Bans Customers Who Received Credit Cards Refunds
Published on Oct 13 2021 12:00 PM in General Industry tagged: Ryanair / Credit Card / Air Travel Industry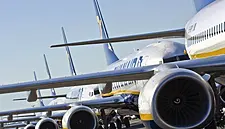 According to The Irish Independent, Ryanair has banned customers who received "unlawful" refunds for flights of which they did not avail during the COVID-19 pandemic from flying with the airline unless they "settle their outstanding debt".
Credit Card Chargebacks
Reports reportedly emerged that customers who booked flights with Ryanair during COVID-19 travel restrictions, and later requested refunds through "chargebacks" on their credit card, will not be allowed to travel with the airline again unless they give the money back.
Chargeback is when a customer asks their credit or debit card firm for a refund for a service not provided, and this is charged to the retailer's bank.
The flights concerned were reportedly not cancelled but customers requested refunds as they felt they could not travel due to various travel restrictions around Europe.
An analysis from MoneySavingExpert.com reportedly found that "dozens" of customers reported not being allowed to avail of flights they had already booked with the airline after they received refunds via their credit card companies.
The customers were reportedly able to book and pay for flights normally and were only alerted to Ryanair's refund demands when trying to check in or change a booking.
Ryanair reportedly did offer to refund the later flights if the customer was not willing to refund the chargeback and effectively lift their travel ban.
Ryanair reportedly said that millions of customers "who applied directly to Ryanair for refunds" are not affected by the latest measure, but customers who processed refunds through their credit card companies for flights that operated as scheduled will have to return the refund in order to fly with them again.
A Ryanair spokesperson reportedly said, "There is a tiny minority of passengers who purchased non-refundable tickets on Ryanair flights which operated as scheduled during COVID-19 but who chose not to travel and then unlawfully processed chargebacks via their credit card company."
The spokesperson reportedly said, "These few passengers will be required to settle their outstanding debt before they will be allowed to fly with Ryanair again.
"This regretted restriction applies to only a tiny fraction of Ryanair's 150 million passengers annually who chose to unlawfully break their booking agreements with us."
© 2021 
Hospitality Ireland
 – your source for the latest industry news. Article by Conor Farrelly. Click 
subscribe
 to sign up for the 
Hospitality Ireland 
print edition.