Ryanair Says UK Is Lagging Behind Aviation Recovery In Rest Of Europe
Published on Sep 10 2021 9:50 AM in General Industry tagged: Trending Posts / Ryanair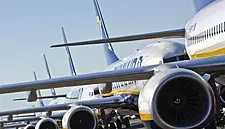 Britain is lagging behind the aviation recovery in the rest of Europe due to confusing COVID-19 restrictions and its airports will struggle in the coming winter, Ryanair executives have said.
"Most European markets are recuperating...the exception is the UK [where0 there's this continued confusion," Eddie Wilson, CEO of Ryanair DAC, Ryanair Group's largest airline, told Reuters. "It's going to be a difficult winter for us - we're stimulating [passenger numbers] with lower fares."
While it would not be difficult to reach high passenger volumes over Christmas in Europe, British airports would likely struggle over the period, Ryanair Group CEO Michael O'Leary told reporters in a separate event in Rome.
"Places like Heathrow and Gatwick [are] struggling with...Brexit border controls and COVID," O'Leary noted.
Both executives referenced travel debacles this summer when the UK abruptly changed the risk classifications of destinations thousands of Britons were holidaying in, causing frustration and anger amongst tourists forced to book expensive diagnostic tests and undergo lengthy quarantines.
"People remember what happened in Portugal, and more recently Montenegro," Wilson said. "They need certainty and we've seen bookings reflect almost exactly people's level of confidence."
The Ireland-based low-cost airline announced earlier this week that talks with aircraft supplier Boeing over an order of MAX 737 planes worth billions had failed, with O'Leary saying that he would wait up to 10 years for a downturn and the right prices.
News by Reuters, edited by Hospitality Ireland. Click subscribe to sign up for the Hospitality Ireland print edition.
Concerns About Ryanair's Handling Of Operations During COVID-19 Pandemic
The above news coincides with news that UK-based proxy advisory group PIRC has claimed that there are "serious" corporate governance concerns about the way in which Ryanair handled issues such as operations and advertising during the COVID-19 pandemic.
As reportedly by The Irish Independent, PIRC, which advises a number of big clients such as major pension funds, asset managers and trade unions, has advised investors to oppose a raft of resolutions at the Ryanair's upcoming annual general meeting, saying that they should oppose resolutions to re-elect CEO Michael O'Leary and most of the board, and has also urged Ryanair shareholders to oppose a vote to adopt the airline's annual report as well as to oppose its remuneration report.
PIRC reportedly said, "During the year, there have been multiple reported incidents [of] the company's handling of the COVID-19 pandemic…that are not considered to meet best practice standards and could be potentially harmful to stakeholders and to the company's reputation."
PIRC reportedly said that there are issues surrounding Ryanair's practices on sick pay and labour practices.
The UK's Advertising Standards Authority reportedly told Ryanair to pull adverts in February of this year that the watchdog deemed were misleading.
The adverts reportedly informed consumers that they could "jab and go", indicating that they could receive a COVID-19 vaccine and then travel, and the two TV adverts that were the subject of the complaints reportedly showed individuals without facemasks and not engaging in social distancing.
Almost 2,400 complaints were reportedly received by the UK's Advertising Standards Authority about the adverts.
PIRC reportedly said, "It is considered the responsibility of the chief executive to ensure that the company's handling of the COVID-19 pandemic does not negatively affect stakeholders and that they should be held accountable for failures in these areas."
PIRC reportedly added, "There are also serious concerns regarding the company's labour practices and treatment of employees, for which the CEO is also considered to be ultimately operationally responsible."
While PIRC has reportedly recommended that shareholders support the resolution to re-elect Ryanair chairman Stan McCarthy, it has reportedly advised them not to support the re-election of other directors including former Ryanair executive directors Howard Millar and Michael Cawley, who PIRC reportedly argues cannot be considered independent.
Ryanair reportedly had not responded to requests for comment from The Irish Independent at the time of the publication of the above news.
Article by Dave Simpson. Click subscribe to sign up for the Hospitality Ireland print edition.