Shannon Airport Operator Shannon Group Could Establish An Airline
Published on Oct 11 2021 12:30 PM in General Industry tagged: Shannon Airport / Shannon Group / Transport Minister Eamon Ryan / Air Travel / Pádraig Ó Céidigh / Aer Arann Islands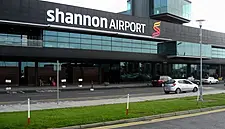 As reported by The Irish Times, the incoming chairman of the Shannon Airport operator Shannon Group, Pádraig Ó Céidigh, believes that the state company could establish an airline.
It has reportedly has emerged, meanwhile, that politicians are poised to demand that Minister for Transport Eamon Ryan promote Mr Ó Céidigh to the position of executive chairman of the mid-western group.
Shannon Group New Chairman
The government recently named Mr Ó Céidigh, former chief of Aer Arann, as non-executive chairman of the state-owned group responsible for Shannon Airport, an industrial estate, and other businesses.
The Oireachtas Joint Committee on Transport and Communications reportedly pledged to write to Ryan calling on him to appoint Mr Ó Céidigh as executive chairman of Shannon Group. Mary Considine is currently its chief executive.
Fianna Fáil senator Timmy Dooley reportedly argued that there was "precedent" for appointing executive chairpersons to State companies where circumstances demanded it.
He reportedly noted that non-executive chairpersons tended to be hands-off, while Shannon needed someone hands-on who could "travel to meet airlines, chief executives and players in the industry" to aid the airport's recovery.
Responding to an earlier suggestion from Dooley that this is the time for Shannon Group to establish its own airline, the chairman designate reportedly agreed that that is possible.
However, he reportedly cautioned the committee that it was a "huge, huge task" and could be part of Shannon's longer-term strategy.
Aer Arann
Ó Céidigh previously ran Aer Arann, which grew its business from serving the Aran Islands to become a regional carrier.
The company went into examinership, a High Court-supervised rescue process, in 2014, after a recession hit passenger numbers. British transport group Stobart then took it over.
Stobart Air operated the Aer Lingus regional franchise, but folded in June after its owner withdrew financing. COVID-19 travel curbs had devastated the carrier's business.
Ó Céidigh now chairs a different carrier, Aer Arann Islands.
He served as a senator from 2016 to 2020.
He reportedly told the committee that he aims to recover lost passenger numbers at Shannon airport to 2019 levels within three years. He reportedly warned that recovering the airport's business to pre-pandemic levels is likely to take many years.
"And it's likely that airports such as Shannon will face increased competition for new routes," he reportedly added. "I want to grow it back to 2019 levels by 2024."
Mr Ó Céidigh reportedly stressed that this included three services to Heathrow Airport a day and all transatlantic flights lost in the face of tough government COVID travel curbs.
The businessman reportedly acknowledged that his target is "ambitious" as EU forecasts indicate that air travel's recovery from the pandemic's impact is likely to take five years.
Approximately 1.7 million passengers travelled through Shannon Airport in 2019, but flights from there virtually halted during the worst of the pandemic.
Ryanair recently began flying from the mid-western airport, while it has pledged to restore a full pre-COVID schedule there from next summer.
However, Aer Lingus plans closing a base there as that airline restructures.
The carrier is flying from Shannon to Heathrow once a day while Cork Airport is resurfacing its runway.
Mr Ó Céidigh reportedly pledged that his first priority once he is formally appointed would be to "see where we're at with Aer Lingus".
He reportedly agreed that restoring the airline's services to Heathrow was critical to Shannon. Approximately 60,000 people reportedly travelled between the two airports in 2019.
Tourist attractions
The businessman reportedly told the committee that he favours transferring responsibility for Shannon's tourist attractions, including Bunratty and Malahide castles, to their respective local authorities in Co. Clare and Co. Dublin.
He reportedly acknowledged that he is "very disappointed" that the government has yet to publish a recovery plan for air travel and that the Republic was the last EU state to reopen this summer.
Ó Céidigh reportedly argued that Irish airports should work together rather than competing with each other.
He reportedly maintained that this should include airports in Belfast and Derry.
The incoming Shannon chairman reportedly added that he would like to hear all-Ireland agency Tourism Ireland's plans for marketing airports in the North.
Ó Céidigh reportedly stressed that this was a commercial rather than a political point.
© 2021 Hospitality Ireland – your source for the latest industry news. Article by Conor Farrelly. Click subscribe to sign up for the Hospitality Ireland print edition.