Up To 40,000 Weddings Could Take Place In 2022
Published on Jun 15 2021 1:20 PM in General Industry tagged: weddings / COVID / wedding planners / Wedding and Honeymoon Show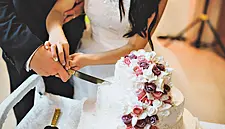 According to The Business Post, up to 40,000 couples could get married next year, twice as many as would normally be the case in a typical pre-pandemic year due to a backlog in weddings. Backlog An...
According to The Business Post, up to 40,000 couples could get married next year, twice as many as would normally be the case in a typical pre-pandemic year due to a backlog in weddings.
Backlog
An analysis by The Business Post suggests that a backlog of 20,000 weddings from last year and this year could result in demand for 40,000 weddings next year, potentially creating an unprecedented situation for the country's wedding industry.
Figures on the number of marriage ceremonies registered in the past 18 months with the General Register Office showed just 9,188 went ahead last year.
This figure is less than half the yearly average in the previous five years, with 21,500 weddings per year pre-pandemic.
Just 2,369 ceremonies had taken place as of May 14 this year, suggesting a similar pattern in 2021.
Speaking to The Business Post, Tara Fay, a wedding planner based in Dublin, expects "40,000 weddings next year, twice as many in a typical year.
"We've a backlog of 20,000 weddings next year and then there's people who got married, but still hope to have wedding parties next year."
Some trends highlighted by Fay include the astronomical demand for dates has led to a run on midweek days, and smaller weddings becoming more popular not just because of restrictions.
COVID Restrictions
Indoor wedding receptions are currently restricted to just six guests, with outdoor receptions limited to 25, with 50 people allowed at the ceremony.
The number allowed at a reception is anticipated to expand to 50 by July 5 and 100 guests on August 2 as per reopening recommendations from the National Public Health Emergency Team.
The Irish Hotels Federation (IHF) has valued the wedding market at over €1.5 billion to hotels alone, supporting 40,000 jobs.
Fay called for an acknowledgement of the value the weddings industry brings to the Irish economy, with better supports from the government to handle a successful recovery in the coming year as restrictions are lifted.
"Weddings are worth a lot more than people think they are to the economy," she said. "But there's a huge worry without clarity on the restrictions in place. We can't, hand on our heart, help people plan a wedding confidently for later this year. We know they could have 100 people but still don't know what that will look like. Can they have music, is there a curfew at the venue, will they have to sit a certain distance apart?"
A recent Irish Wedding Suppliers Survey of 500 people in the wedding industry including hotels, venues, florists, photographers, videographers, marquee companies, caterers, wedding planners, and various suppliers estimated Ireland's entire wedding industry was worth €2.3 billion per year.
"Suppliers are hurting at the moment," Garret Buckley, managing director of EventHaus and organiser of the Wedding and Honeymoon Show in the RDS, said.
"You can imagine limo drivers, photographers or videographers that haven't worked and all the venues shut down, the florists, caterers and even printers that haven't had business. Lots of the hotels and venues trying to reopen have no staff and can't currently get staff. It's been a huge hit for this sector.
"I would think there's a lot of suppliers, particularly those working in the industry part-time, who just haven't made it through 2021 that won't be on the other side," he said.
© 2021 Hospitality Ireland – your source for the latest industry news. Article by Conor Farrelly. Click subscribe to sign up for the Hospitality Ireland print edition.