CBRE Predicts Number Of Hotel Bedrooms In Dublin Will Reach Just Under 26,000 By 2023
Published on May 18 2021 2:10 PM in Hotel tagged: Trending Posts / Dublin / CBRE / hotels / Dublin hotels / "The Future of Demand for the Dublin Hotel Market" report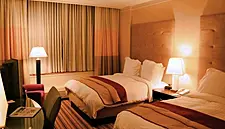 Commercial real estate services firm CBRE has predicted that the number of hotel bedrooms in Dublin will reach just under 26,000 by 2023.
"The Future Of Demand For The Dublin Hotel Market" Report
CBRE stated on its website, "Following what has been a tumultuous 13 months for the hospitality sector internationally, in their report 'The Future of Demand for the Dublin Hotel Market', CBRE have considered what the Dublin hotel market will look like once international markets reopen - what the medium term drivers for demand will be and ultimately what the implications may be for the future supply of hotel accommodation in Dublin city.
"There are 4,075 hotel rooms currently onsite across Dublin city, and the level of new supply openings are estimated to take place between late 2021 and spill into the early months of 2023, predicting hotel stock to reach just under 26,000 bedrooms, according to the latest research from global real estate advisor, CBRE."
"Outperformed Most European Capital Cities"
CBRE continued, "The Dublin hotel market has outperformed most European capital cities over a number of years in the lead up to COVID, and this was driven by robust macroeconomic fundamentals from consistently high GDP growth to considerable growth in employment in high skilled and high earning roles increasingly within multinational companies. Through these strong fundamentals Ireland has seen record levels of household savings, giving confidence to the prospects of future domestic leisure demand once hotels reopen for business."
"But What Of Corporate Demand?"
CBRE added, "But what of corporate demand? There is a great deal of speculation as to how much corporate travel will be affected by the acceleration of use of telecommunications and how this will reduce the need for short hop travel which drove a significant portion of corporate demand in international cities. CBRE assess in their report the categories of corporate travel and likely permanent impacts resulting from the past 13 months and consider that in the context of the growth in multinational corporate occupiers in the city centre. For example, the top ICT employers in Dublin have increased their committed and occupied space by 259% since 2014, accounting for 451,000 square metres, or 16%, of the overall market, with over 50% of committed but not yet operational. While individual corporate travellers might fly less frequently, CBRE believe the demand drivers in Dublin are highly likely to exceed any permanent impacts on the reduction in corporate travel by virtue of COVID-19."
Additional Information
Additionally, The Irish Times quotes CBRE's "The Future of Demand for the Dublin Hotel Market" report as saying, "[The top ICT] employers [in Dublin] include Google, Facebook, LinkedIn, Salesforce, Amazon, Indeed, Twitter, Intercom and Zendesk, and we understand from media reports that TikTok will be joining them.
"It is worth noting this is only the top 10 ICT employers. What is most significant is that of the space committed to by these multinationals, 250,000sq m is not yet occupied and this will deliver an estimated headcount of just under 20,000 and a doubling of their footprint in Dublin."
As reported by The Irish Times, the report acknowledges that the COVID-19 pandemic "may result in some long-term changes" to modern office accommodation, but points out that the make-up of office-based employers is "increasingly international in nature", and more likely to need hotel accommodation.
The Irish Times quotes the report as saying, "Given the disruption caused by COVID and the corresponding acceleration of communication technology, it is clear the volume of corporate travel will be impacted. Overall corporate travel may reduce by between 19%-36%.
"If the Dublin hotel market is split approximately 50:50 between corporate and leisure business, a 19%-36% decline in corporate business equates to a 9.5%-18% fall in hotel rooms business, assuming no change in the population and volume of travellers.
"However, it is clear that the capacity for Dublin is growing substantially in both leisure and corporate sectors. The growth in leisure will come through population growth and returning connectivity from global markets and corporate business will exceed previous levels.
"We assert that any reduction in corporate travel will be more than offset by the greater footprint of international businesses active in Dublin given that the top 10 technology employers will see their footprint in Dublin more than double in the next 24 months."
Director Of CBRE Hotels In Ireland Statement
In a statement published on CBRE's website, director of CBRE Hotels in Ireland Dave Murray said, "The factors that drive long-term domestic consumer confidence appear strong in Ireland relative to its European competitors. Along with forecasted growth in population and high levels of household savings, domestic demand should prove strong in Ireland. From a corporate business perspective, the significant expansion in the size of the office market and the increasingly international nature of the city's corporate occupiers will sustain corporate demand for Dublin's city centre hotels into the medium term."
© 2021 Hospitality Ireland – your source for the latest industry news. Article by Dave Simpson. Click subscribe to sign up for the Hospitality Ireland print edition.