Hastings Hotels Records Pre-Tax Loss For Year That Ended On October 31, 2020
Published on May 13 2021 1:44 PM in Hotel tagged: Featured Post / Merrion Hotel / Hastings Hotels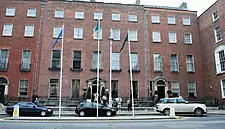 New accounts for Northern Irish hotel group Hastings Hotels, which co-owns Dublin's Merrion Hotel, have revealed that the group experienced a pre-tax loss of £16.55 million, or €19.25 million, during the 12 month period that ended on October 31 of 2020.
As reported by The Irish Times, the pre-tax loss for the 12 month period that ended on October 31 of last year followed a £5.8 million pre-tax profit during the previous 12 month period.
The group's loss includes a £5.27 million exceptional cost concerning the non-cash write down of assets as well as a £1.17 million loss on its joint venture, The Merrion Hotel, in which it has a 50% share. The other 50% is shared by businessmen Lochlainn Quinn and Martin Naughton.
Revenues And Other Statistics
The new accounts for Hasting Hotels also revealed that the group's revenues decreased from £49.37 million to £25.12 million during the 12 month period that ended on October 31 of last year; the number of people employed by the group decreased from 1,385 to 1,161 during the 12 month period; staff costs decreased from £17.22 million to £14.35 million; directors' pay increased from £1.18 million to £1.26 million, which consisted of £1.09 million in pay and £168,595 in pension contributions, with the highest payment received by a director being £220,718, which includes £52,630 in pension payments; the group's bank loans and overdrafts amounted to £47.64 million; and it paid out dividends of £298,935, which followed a £1.75 million dividend pay-out the previous year.
Additional Data
Additionally, the group's accumulated profits amounted to £31 million at the end of October of 2020; its shareholder funds amounted to £33.38 million; its cash funds decreased from £5.18 million to £2.57 million during the 12 month period that ended on October 31, 2020; the new accounts show that the group received "other operating income" of £3.34 million through the UK's coronavirus job retention scheme; and Bank of Ireland, which is the group's primary lender, provided an additional £10 million loan, half of which comes from the UK's coronavirus business interruption scheme, and this is due for renewal in September of this year.
Anticipating Further Travel Disruption
According to The Irish Times, while the group's directors are looking forward to reopening its hotels in Northern Ireland later this month following COVID-19 pandemic-related closures, they are anticipating further travel disruption in the months ahead, "and forward visibility on the timing and shape of improvements in demand remains limited".
The group is continuing to take advantage of all of the government schemes that have been made available to aid hospitality businesses during the pandemic.
Portfolio
In addition to owning half of Dublin's Merrion Hotel, Hastings Hotels' portfolio includes Belfast's Europa and Grand Central hotels, and Culloden Estate and Spa.
© 2021 Hospitality Ireland – your source for the latest industry news. Article by Dave Simpson. Click subscribe to sign up for the Hospitality Ireland print edition.