Ireland's Mandatory Hotel Quarantine System Officially Ends
Published on Sep 27 2021 8:06 AM in Hotel tagged: Featured Post / hotel quarantine / mandatory hotel quarantine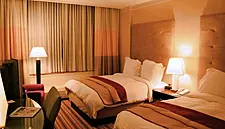 Ireland's mandatory hotel quarantine system, which was introduced in March of this year to help stop the spread of COVID-19, has officially ended.
As reported, approximately 10,300 individuals were required to enter mandatory hotel quarantine since the system was introduced in March, and 60 countries were on the list at its height.
98 people reportedly entered the mandatory quarantine system in the past month, according to government figures.
It was reported last month that 10,196 had entered the system since its launch.
The decision to end the system was reportedly made on the advice of Ireland's chief medical officer, Doctor Tony Holohan, and it is reportedly understood that the dominance of the Delta variant of COVID-19 in Ireland and elsewhere means that there are no remaining variants of the virus of concern that could be stopped from taking hold by requesting travellers to quarantine in hotels.
A Government source reportedly said that the system was always designed to be short term and that contracts with hotels are due to expire at the end of September.
Individuals who arrive in Ireland without proof of vaccination against COVID019 or a negative PCR test will reportedly now be told to home quarantine.
Minister For Health Statements
Minister for Health Stephen Donnelly reportedly said, "The mandatory hotel quarantine system was introduced as an exceptional public health measure at a time that our country was contending with the very serious risk of importation of variants of concern that had the potential to overwhelm our health service and, in particular, to undermine Ireland's COVID-19 vaccination programme."
Donnelly reportedly added, "The successful operation of MHQ has played a central role in protecting the population, maintaining control of the disease and enabling the safe relaxation of restrictions on our economy and society."
Defence Forces Statement
The Defence Forces, which assisted with the mandatory hotel quarantine system, reportedly said that they are stepping back "in a phased manner to revert to normal military operational activities and training, much of which has been paused since March 2020".
Sinn Féin Health Spokesperson Statements
Sinn Féin's health spokesperson, David Cullinane, reportedly said that the high vaccine uptake in Ireland and across the EU "has put us in a place where public health restrictions can be eased and in some instances ended", and, "We, at all times, need to remain agile and vigilant but the high vaccine uptake has put us in a strong position where more and more public health restrictions will come to an end. All such decisions must be guided by the most up-to-date public health advice."
US's Fauci Believes It Will Be Safe For Irish People To Visit The US From November
The above news coincides with news that the chief medical adviser to the President of the United States, Doctor Anthony Fauci, has said that he believes it will be safe for Irish people to visit the United States when travel resumes between the countries in November.
Fauci Statements
Fauci reportedly said in an interview with RTÉ's This Week radio programme that even though the US currently has a very high infection rate, authorities are "starting to see the turning around of numbers of cases".
Fauci reportedly said, "I think the combination of the fact that it will be in November, and there will be a requirement for vaccination and testing, that it will be safe for people in Ireland to travel to the United States.
"I believe our Irish friends and colleagues who come from Ireland to the United States with vaccination and testing can have a safe visit."
Fauci reportedly said when asked whether unvaccinated young children should travel, "Everything has to be put into the context of what your ability is to take a finite risk.
"Everything is relative. Planes, given the filtering on board, are relatively safe. If you have children that come over from Ireland, we recommend that they wear masks in congregated settings."
Fauci reportedly also encouraged the Irish government to reward health workers, who he reportedly said performed heroically during the pandemic.
Fauci reportedly said, "I'm of the firm belief that frontline health workers are truly the heroes and heroines of this outbreak in Ireland, in the United States and throughout the world. Whatever an individual country can do to recognise that heroism would be thoroughly appropriate."
US To Lift Travel Bans In November
Fauci's statements follow last week's news that the United States has announced that it will lift COVID-19 pandemic-related travel bans on air passengers in November for those who are fully vaccinated against the virus and undergo testing and contact tracing.
© 2021 Hospitality Ireland – your source for the latest industry news. Article by Dave Simpson. Click subscribe to sign up for the Hospitality Ireland print edition.