Northern Irish Hotels Had Busy Summer, Says NIHF Chief Executive
Published on Oct 14 2021 9:20 AM in Hotel tagged: Trending Posts / Hospitality Exchange / NIHF / Northern Irish Hotels Federation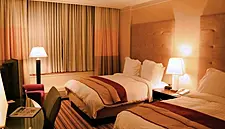 Northern Irish Hotels Federation (NIHF) chief executive Janice Gault has said that Northern Irish hotels had a busy summer.
In an article published by The Irish News, Gault said several factors contributed to the busy summer that Northern Irish hotels experienced, including pent up demand after a long COVID-19 pandemic-related lockdown, uncertainty over international travel which resulted in a captive market on the island of Ireland, and a reopening that included bars, restaurants and visitor attractions in addition to hotels.
Occupancy
Gault said that occupancy was strong throughout Northern Ireland and grew steadily from when Northern Irish hotels reopened on May 24, with Belfast hotels having an average occupancy of 76.7% over the summer months and Northern Ireland achieving an overall occupancy figure of 77.5%, which was significantly higher than predictions and not too far of from pre-pandemic trading levels.
Gault said that hotels currently have a record 9,627 bedrooms in the market each night and occupancy is currently at 43%, which 30% less than the same period in pre-pandemic 2019.
Staff Shortage Problem And NIHF Annual Conference
Gault said that as the sector regroups, it is considering how to address a staff shortage problem, which was reportedly a key topic at the NIHF's annual conference, Hospitality Exchange, which took place on Tuesday October 12 and Wednesday October 13 at Crowne Plaza Belfast.
The staff shortage problem was reportedly one of three key themes at the event - "Reflect" reportedly looked at the role of the sector pre-pandemic; "Recruit" reportedly considered the need to attract and retain people; and "Restore" reportedly explored the measures required to bring the sector back to its £1 billion pre-pandemic levels of spend.
"Resilience"
Gault noted that after the past 18 months of the pandemic, the word "resilience" resonates and has been evident in spades and ensured the hotel sector's survival.
NIHF Study
As reported by The Irish News, a study commissioned NIHF stated that while staycations were the saviours of the Northern Ireland's hotels over the summer, the sector is still likely to finish this year at 40% behind pre-pandemic levels.
The study reportedly forecast that the sector will sell approximately 1.5 million rooms this year, which, despite being an improvement on the 1.15 million sold last year, is far off of 2019 levels.
The sector reportedly entered the pandemic after investing £800 million to produce a record 9,627 rooms in 145 properties, directly employing 10,000 people.
Gault reportedly said, "Staycations have been the saviour of the summer with support during the final lockdown ensuring the survival of the sector,", but that trade has started to fall back as leisure business returns to a more normal autumn and winter weekend pattern.
The NIHF reportedly said that limited events and the sluggish return of business travel along with confusion and constraints on international travel will make the Monday to Thursday window more difficult to fill.
Gault reportedly said that Northern Ireland's "Spend Local" and "Stay at Home" vouchers will be "important weapons" in the "recovery artillery", and that anecdotal reports suggest strong bookings from international markets who are keen to visit with the island of Ireland, viewing it as a safe and secure destination for post-pandemic travel.
 Gault reportedly said, "Ireland as an international destination has a good reputation but the propensity to travel at present is low.
"There will be pent up demand and hopefully this business can be realised at a future date."
Gault reportedly said that the sector is continuing to face "a people crisis". A survey carried out by the NIHF last month reportedly suggested a shortage of 1,400 staff in Northern Ireland, with 100% of respondents reporting vacancies.
85% of respondents reportedly said that they had restricted their services in line with their available staff.
NIHF President Stephen Meldrum reportedly said that many challenges lie ahead, and, "The key for the hotel industry is to be allowed to trade sustainably within a clear and workable framework.
"Hotels have shown their resilience and resolve. They have traded responsibly, and they have a strong reputation.
"The support that has been received to date has been welcomed but as recovery becomes more truncated this support must continue so that the industry can survive."
© 2021 Hospitality Ireland – your source for the latest industry news. Article by Dave Simpson. Click subscribe to sign up for the Hospitality Ireland print edition.