Tifco Hotel Group Records Pre-Tax Loss For Last Year
Published on Sep 3 2021 12:30 PM in Hotel tagged: Trending Posts / Tifco / Clontarf Castle / hotel quarantine / mandatory hotel quarantine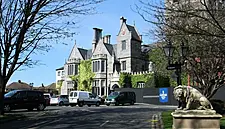 New accounts for Ireland's Tifco Hotel Group have revealed that it recorded a pre-tax loss of over €1.1 million for last year, as revenues decreased to €11.8m from close to €36.5 million in 2019.
As reported by The Irish Examiner, the number of people employed by Tifco decreased to 183 people last year from 297 the previous year while staff costs decreased to €3.1 million from €9.8 million, and the accounts state that the staff costs were "net of government wage subsidy".
Tifco, the hotel portfolio of which includes Dublin's Clontarf Castle Hotel, the Crowne Plaza venues at Dublin Airport and in Blanchardstown and Dundalk, the Hilton Hotel in Kilmainham, Dublin 8, and the Holiday Inn Express at Dublin Airport, reportedly cushioned some of the hit to its revenues last year by securing a number of contracts from the state, which a note attached to the accounts reportedly said have continued into 2021.
One of the contracts held by Tifco is the contract for the Republic of Ireland's mandatory hotel quarantine system.
Documents from the Department of Health reportedly showed earlier this year that the quarantine system contract was worth €5.4 million for an initial three-month period, and, according to the documents, it will be "of neutral value" to taxpayers because travellers will be charged for the facilities.
Tifco directors reportedly said that the COVID-19 pandemic "has severely impacted the business in 2020", and, "We have been able to mitigate some of this risk by being awarded a contract for hotel quarantine services."
Clontarf Castle
The company behind Dublin's Clontarf Castle Hotel reportedly paid out dividends of €500,000 to Tifco, which is its parent, last year.
As reported by The Irish Times, the dividend payments came during a period in which the hotel's profits decreased by 90%, it laid off staff and availed of government COVID-19 pandemic supports.
Tifco reportedly stressed in response to a query from The Irish Times that the payment of dividends was halted once the pandemic struck locally.
Tifco managing director Enda O'Meara reportedly said, "The dividend was paid in January and February before the COVID-19 situation emerged and once we saw the challenges faced from March onwards no further payments were made."
Newly-filed accounts for Clontarf Castle Ltd reportedly indicate that it received close to €470,000 in COVID-19 pandemic supports from the state last year, and the number of people employed by the Clontarf Castle Hotel reportedly decreased from 177 to 62 last year.
Turnover at the hotel reportedly decreased to €4.1 million in 2020 from €12.5 million in 2019, and its pre-tax profit reportedly decreased form €3.6 million to €381,010.
The hotel reportedly said that it laid off staff and reduced working hours for those who were retained due to the pandemic, and that this brought staff-related costs down to €1.7 million from the €3.9 million that was recorded for 2019.
O'Meara reportedly said, "We did not know what a difficult situation COVID would become for our sector at that time and furthermore what government supports would evolve, when we were in January/February/March. We are indeed grateful for the government supports, [but] that said it was an extremely difficult year [with] our profits down 90%, even with those supports."
Last year's dividend payment reportedly compared with payments of €2.5 million in the previous year, and the net assets of Clontarf Castle Ltd reportedly stood at €11.4 million at the end of December of 2020, after reportedly standing at €11.6 million in the previous year.
Tifco Ltd, which is owned by a Luxembourg entity that is owned and managed by various Apollo funds, reportedly paid no dividend last year.
Optimistic
As reported by The Irish Independent, O'Meara said that it could be two more years before corporate and leisure travel returns to 2019 levels, but that Tifco remains optimistic for the sector as pandemic restrictions are unwound.
Two-Month Extension To Quarantine Contract
Additionally, Tifco reportedly has recently secured a two-month extension to the mandatory hotel quarantine system contract.
Its Crowne Plaza properties in Blanchardstown and Santry, the Holiday Inn Express in Santry, and the Hard Rock Hotel on Exchange Street in Dublin city are currently used for quarantine services.
Initially, Clontarf Castle was used for quarantine services, but O'Meara reportedly said that it has not been used since July, when summer trade started to pick up.
© 2021 Hospitality Ireland – your source for the latest industry news. Article by Dave Simpson. Click subscribe to sign up for the Hospitality Ireland print edition.