Ireland Gay Marriage Tour Launched
Published on Jun 29 2015 11:37 AM in Hotel tagged: LGBT / Merrion Hotel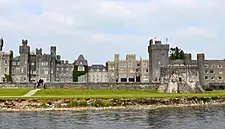 A major US tour operator has reportedly created an Ireland touring product specifically for the LGBT market.
travelweekly.com reports that the Brendan Vacations travel trips are for couples who want to take advantage of Ireland's recent vote to legalise same-sex marriage, adding that it's likely the first of many suppliers that will develop an Ireland wedding product for the LGBT market.
"It's a new step for us," said Paul Wiseman, president of Trafalgar and Brendan Vacations, as reported on travelweekly.com.
"It's a substantial change in the way that we are going to create and market [to the LGBT community]. We've done all kinds of different custom departures over the years. But this isn't a one-off. This is now a much broader program that all agents would be able to get access to."
Brendan Vacations has unveiled a 10-day Romantic Ireland itinerary, priced from $5,750 per person, beginning with two nights in Dublin at the Merrion Hotel, followed by one night at the Cliff House Hotel in County Waterford, two nights at the Malton Hotel in Killarney, a night at the Mustard Seed and two nights at Ashford Castle (pictured) before returning to the Merrion for a final overnight in Dublin.
Guests will travel between destinations in a luxury, private, chauffeur-driven vehicle.