Proposals To Reform Northern Ireland's Licensing Laws Pass Key Assembly Stage
Published on Jun 10 2021 2:40 PM in Pub/Bar/Nightclub tagged: Northern Ireland / Alcohol Legislation / licensing laws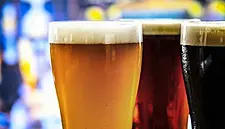 According to The Belfast Telegraph, proposals to reform Northern Ireland's licensing laws have taken a further step towards becoming law after passing a key Assembly stage.
The reforms include the removal of restrictions that currently limit trading hours over the Easter period.
Licensing Laws Reforms
A long sitting of the Assembly where MLAs considered dozens of amendments to the draft legislation ended in the early hours of Wednesday June 9.
Included in the proposed licensing laws reforms is legislation allowing certain licensed premises to be able to serve alcohol for an extra hour up to 104 times a year.
This would allow alcohol to be served to 2am at weekends.
Smaller pubs would be able to extend the time for last orders up to 85 times a year.
Changes to the current "drinking-up" time of 30 minutes for all licensed premises would be increased to one hour under the Bill, to discourage people from drinking too quickly and to allow more time for gradual departures at the end of the night.
This would see pubs being able to stay open to 3am at weekends.
Cinemas
An amendment from independent MLA Claire Sugden to allow alcohol to be sold in cinemas was also approved.
Sugden said she was "delighted" that her proposal was backed.
"If this law passes, NI will no longer be the only region of UK & Ire not to offer customers the opp to buy & consume alcohol in cinemas! Who says Independents are no use?!", she tweeted.
Other proposed law changes include limits on where supermarkets can promote deals on alcohol sales, in areas around where the products are sold in store.
The Bill would also ban the use of loyalty schemes in off-licences.
The Bill now has only two further stages before it receives royal assent and becomes law.
That next stage could potentially happen over the summer, with the majority of the law changes introduced in October.
Licensing laws were last updated in the 1990s, but a bid to update legislation was progressing through the Assembly before the collapse of power-sharing in 2017.
© 2021 Hospitality Ireland – your source for the latest industry news. Article by Conor Farrelly. Click subscribe to sign up for the Hospitality Ireland print edition.