Pub Operator Marston's Says Tax Cut Should Stay To Aid Recovery; Mitchells & Butlers In Strong Position; Dead Rabbit To Open New US Venue
Published on Aug 6 2021 8:41 AM in Pub/Bar/Nightclub tagged: Wetherspoon / Dead Rabbit / Mitchells & Butlers / Marston's / British Beer and Pub Association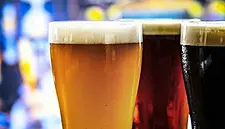 Pub operator Marston's has joined industry peers in calling on Britain to make a COVID-19 tax relief permanent, as the hospitality sector looks to bounce back from the pandemic. Last July, Britain...
Pub operator Marston's has joined industry peers in calling on Britain to make a COVID-19 tax relief permanent, as the hospitality sector looks to bounce back from the pandemic.
Last July, Britain cut value-added tax (VAT) for cafes, restaurants and hotels to 5% from 20% as a temporary measure. The government is planning to introduce an interim rate of 12.5% for six months from October before reverting to 20%.
"The tone of government messaging will be an important influence on consumer confidence," Marston's chief executive, Ralph Findlay, said in a statement.
"We believe that a government review of the business rates system is long overdue and that VAT reduction should be permanent since the hospitality industry remains one of the most heavily taxed sectors," Findlay, who is due to step down later this year after two decades in the role, said.
Findlay said that the short-term outlook is uncertain and "operationally disrupted", and a permanent tax cut would go a long way in boosting employment across the industry.
Over the past year, pubs across Britain have laid off thousands of workers, while labour shortages are a concern as economies reopen.
Marston's peer JD Wetherspoon also criticised tax rates on the sector, and warned that a 12.5% VAT rate will increase its food prices by approximately 40 pence per meal. The British Beer and Pub Association also backs lower VAT on food in pubs.
Marston's said in a trading update that its performance since May has exceeded its expectations, thanks to the Euros soccer tournament, warmer weather and outdoor seating.
An easing of lockdown restrictions helped drive earnings and positive cash flow in May and June, and sales have risen after most restrictions were eased last week, the company said.
News by Reuters, edited by Hospitality Ireland.
Mitchells & Butlers In Strong Position
Meanwhile, British pub group Mitchells & Butlers has said that it is in a strong position as COVID-19 pandemic-related restrictions ease in the UK.
As reported by The Irish Examiner, Mitchells & Butlers, which owns chains such as O'Neill's and All Bar One, said that its sales in the year-to-date including 18 weeks of pandemic-related closure are at 35% of pre-pandemic levels, but trading has been helped by the UK's temporary reduction of its hospitality Vat rate.
The group's chief executive, Phil Urban, reportedly said that the continuing uncertainty surrounding the pandemic still makes revenue and earnings' forecasts difficult and is likely to do so "at least until into the autumn".
However, he reportedly said that with a diversified portfolio of brands and a strengthened balance sheet, and largely freehold estate, Mitchells & Butlers is in a strong position coming out of the pandemic.
Dead Rabbit To Open New US Venue
In other pub news, the two Belfast men behind New York's Dead Rabbit pub are planning to open their third US venue in New Orleans by the summer of next year.
One of the duo, Jack McGarry, reportedly told The Business Telegraph, "We're looking at a summer 2022 opening date at the moment, but everything is still in flux with the pandemic and how that's affecting supply chains and prices, etc."
McGarry reportedly said that the format of the new venue will be similar to that of the Dead Rabbit in New York, which was named "World's Best Bar" in both 2015 and 2016.
Article by Dave Simpson. Click subscribe to sign up for the Hospitality Ireland print edition.