Another Woman Rises in London's Male-Dominated Restaurant Scene
Published on Sep 10 2015 11:28 AM in Restaurant tagged: chef / London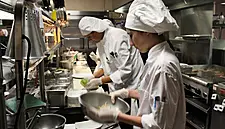 London restaurants are generally dominated by men, but a Berlin-born woman who gave up her career in sales to take her chances in the British capital is poised to open a second restaurant.
Bandol will serve Nicoise and Provencal sharing dishes in Chelsea, says Sylvia Kontek, a German-Hungarian who was raised in Budapest and studied literature and creative writing at New York University before moving to London eight years ago. Almost two years ago she opened the well-reviewed Margaux on Old Brompton Road.
Some female chefs are achieving prominence in London, but not enough: Kim Woodward is the first woman head chef in the 126-year history of the Savoy Grill; Nieves Barragan of Barrafina is one of the most celebrated culinary talents in London; Clare Smyth is the custodian of Gordon Ramsay's three Michelin stars at his flagship in Chelsea.
Woman restaurateurs in London include Sally Clarke (Clarke's), Skye Gyngell (Spring),  Anna Hansen (Modern Pantry), Angela Hartnett (Murano), Marianne Lumb (Marianne), Thomasina Miers (Wahaca) and Ruth Rogers (River Café).
Kontek's business partner is Vittorio Monge, a banker in London. Kontek, who previously worked in real-estate and media sales, says she made the switch to restaurants because she and Monge shared a love of food and wine.
"Every day you open your doors and start from zero," she says. "But there are also a lot of elements that are related to sales. I am selling an experience, and it's very much people- driven. It's about the relationships you develop with you suppliers and customers."
Bandol is scheduled to open next month.
News by Richard Vines, chief food critic for Bloomberg