Chef Francesco Mazzei to Head Mayfair Restaurant Sartoria
Published on Jun 17 2015 2:50 PM in Restaurant tagged: D&D London / Sartoria / west end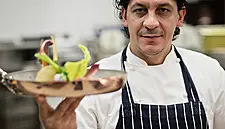 Francesco Mazzei, the Italian chef who spent seven years cooking for City of London diners at L'Anima, is taking over Sartoria, in the West End.
Mazzei, a native of Cosenza, in Calabria, is joining D&D London, the restaurant group whose establishments include Coq d'Argent, Madison, Floridita and Paternoster Chop House.
"It's a chef's dream to have a restaurant in Mayfair," Mazzei said in a telephone interview. "Sartoria isn't going to be another L'Anima just serving southern Italian food. It will be a classic, classy Italian restaurant, with a new menu."
Sartoria, on Savile Row, will close in about two months for a refurbishment. Mazzei will take the helm when it reopens, probably in October, said Des Gunewardena, chairman and chief executive officer of D&D London.
Mazzei left L'Anima in March. He'd opened the restaurant in 2008 and went on to win awards for his creative cooking, bringing a gastronomic touch to the cuisine of southern Italy. He previously headed St. Alban restaurant in the West End.
"When we decided to relaunch Sartoria, we realized we needed to do something very special," Gunewardena said in a telephone interview. "We've known Francesco for years and he did a great job at L'Anima. In my opinion, he's the best Italian chef in London."
Mazzei was succeeded at L'Anima by head chef Antonio "Lello" Favuzzi, a native of Sicily, who previously worked with him in Milan and at St. Alban.
"It was time for me to move on from L'Anima," Mazzei said. "When I first moved to London 19 years ago, I worked as a sous chef at Cantina del Ponte, which is owned by D&D. It's a pleasure to be rejoining D&D in an executive role."
News by Bloomberg, edited by Hospitality Ireland