Dublin Restaurateurs Criticise 'Sunshine Tax'
Published on Jun 24 2015 10:51 AM in Restaurant tagged: RAI / Adrian Cummins / Dublin City Council / rates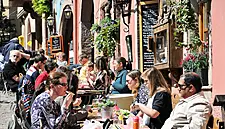 Dublin restaurant owners are calling for a change in the tax system for outdoor seating, which the Restaurant Association of Ireland has called a "double taxation".
Dublin City Council has made over €450,000 in charges from restaurants who choose to have seating placed outside their premises, a so-called 'sunshine tax', to which the RAI is calling for a reduction.
Adrian Cummins, chief executive of the RAI, has said the extra cost of putting seating outside, as well as the annual licence fee is a "double taxation measure".
"The local authority rates are already so high that these charges threaten to cripple a business that employs local people, uses local produce and is vital for local business," said Cummins. Restaurants pay an average of €15,813 in rates, ranging from €975-€150,000.
The Council collected a total of €451,619 in charges in 2014. In Dublin 2 alone, €325,6663 was collected.
Cummmins called for a 70 per cent reduction in the charges, to be more in line with what it costs to administer the scheme, which is around €150,000. "We want a reduction in this extortionate tax on our industry and to stop the profit making by Dublin City Council on the backs of struggling business," he added.
Dublin City Council repudiated the charge by the RAI that it was 'profiting' from the scheme, instead insisting in a statement that the charges are merely standard licence fees.
"Dublin City Council is not in the business of making profits, as alleged by the association, but any income generated by the licence fee is reinvested in the roads and traffic infrastructure in the city," the statement read.