Eddie Rocket's Experienced A Loss Last Year
Published on Nov 15 2021 11:53 AM in Restaurant tagged: Trending Posts / Eddie Rockets / Rocket Restaurants / Eddie Rockets (Ireland) / Rocket Restaurants Group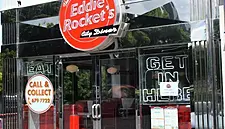 Eddie Rocket's experienced a loss last year.
As reported by The Irish Times, according to the latest accounts filed by Eddie Rocket's (Ireland), there is "significant doubt" over whether Eddie Rockets will be able to survive after losses ballooned fivefold and it was forced to lay off more than a third of its staff last year due to the COVID-19 pandemic.
Eddie Rocket's (Ireland), which is owned by founder Niall Fortune and his wife, Ann Fortune, has been in business for 32 years, has more than 50 outlets, and is the franchisor for some others.
However, in its accounts for the year ended that on December 31, 2020, the company's directors reportedly warned shareholders that the pandemic has led to a significant decline in revenues at all of its restaurant locations, and reportedly raise concerns about a possible recession in Ireland and globally. The accounts were reportedly signed off on September 30, 2021.
Figures
The directors, which are reportedly made up of the Fortunes and Tobias Lukaschek, reportedly said that turnover for the period was down 54% when compared to 2019. The company reportedly made a loss after tax of €3,037,948 during the year, which reportedly followed a loss of €574,418 in the previous year.
The company reportedly had total assets of €17,360,270 and total liabilities of €17,076,355 reportedly resulting in net assets of €283,915.
Turnover was reportedly cut in half from €19 million in 2019 to €8.7 million last year. Shareholder funds reportedly fell from €3.3 million to €283,915. The group was reportedly also aided by a government grant of €418,557.
The group's staff numbers were reportedly cut from 337 in 2019 to 207 last year. Spending on employees reportedly decreased from €7.3 million in 2019 to €2.5 million, and it reportedly also received a government subsidy of €686,921 to help with staff costs.
Directors Statements
The directors reportedly said, "The COVID-19 pandemic has presented many challenges to the company which has resulted in a significant decline in revenues for all of the company's restaurant locations as a result of government restrictions and/or a reduced demand for in-restaurant dining.
"There is still uncertainty as to when or to what extent the applicable government measures will be lifted or whether they will continue to be reintroduced after they have been lifted.
"Even after restrictions are lifted, there is a risk of a recession in Ireland and possibly globally, potentially depressing customer demand, resulting in a period of excess supply in the restaurant market.
"Understandably, customers may also become more reticent about mixing in a social setting and cut-back on time spent in public spaces such as restaurants, bars and hotels."
While the directors reportedly said that they are not currently able to assess the full financial impact of the COVID-19 pandemic, they reportedly anticipate a significant decline in cash flow and profitability. They reportedly also raise concerns about the ability of the group to continue operating as a going concern.
While they reportedly believe that the company is "well positioned to return to full trading capacity" once the current period of uncertainty and restriction passes, they reportedly also warned that financial assumptions in the current climate "are highly dependent on unpredictable future events".
The directors reportedly said, "Therefore the company will continue to require the support of its landlords and other creditors for the foreseeable future.
"Refinancing discussions with the group's bankers successfully concluded in early 2021 which the directors believe will provide the essential working capital needed to support the business.
"However, notwithstanding the foregoing, the directors believe that the above circumstances still represent a material uncertainty which may cast significant doubt on the company's ability to continue as a going concern."
Unsuccessful In Contacting The Company For Comment
Attempts by The Irish Times to contact the company for comment were reportedly unsuccessful.
Owners Says It Is Not Closing Down
However, as reported by The Irish Independent, the restaurant chain's owners have clarified that it is not closing down despite reports to the contrary.
Rocket Restaurants Group reportedly said that recent media reports and online commentary stating that the restaurants will be closing are wide of the mark and reportedly added, "We would like to state very clearly that we are not closing down".
A statement from the group reportedly said, "To misquote Mark Twain - reports of my demise have been greatly exaggerated."
The American-style diner group reportedly admitted that Eddie Rocket's experienced a "challenging trading year" for the 2020 financial period, as reflected in above the figures filed to the Company Registration Office.
The group reportedly said in the statement, "This was due to mandated closures of eat-in service across all our diners, in line with government guidelines during the peak pandemic period. All locations are now open for both eat in and takeout orders."
The group reportedly said that Eddie Rocket's will remain open at all locations, and reportedly added that it is actively seeking to expand its workforce.
A spokesperson for the group reportedly said, "Rocket Restaurants Group has recently undertaken a series of investments in technology and marketing innovations, along with opening its latest Eddie Rocket's diner in Bray, Co. Wicklow. The group has accelerated its digital transformation to futureproof the delivery, click & collect and self-order kiosks elements of its business."
© 2021 Hospitality Ireland – your source for the latest industry news. Article by Dave Simpson. Click subscribe to sign up for the Hospitality Ireland print edition.