Hotel Chocolat To Create Approximately 250 New Jobs As Part Of Expansion Plans; Publishes Trading Update
Published on Jul 15 2021 10:35 AM in Restaurant tagged: Trending Posts / Hotel Chocolat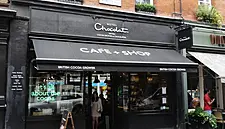 Hotel Chocolat will create approximately 250 new jobs this year as part of expansion plans that include growing its chocolate factory, a fourth truffle-making line, a new line for its home hot chocola...
Hotel Chocolat will create approximately 250 new jobs this year as part of expansion plans that include growing its chocolate factory, a fourth truffle-making line, a new line for its home hot chocolate machines, expanding its warehouse and improving its online capabilities.
As reported by The Irish News, Hotel Chocolat founder and CEO Angus Thirlwell said that the shake-up for the business comes as customers flocked to its website in record numbers during the COVID-19 pandemic and continue to return.
Online sales accounted for 15% of the total business in 2019 but will rise to more than 50% this year, Thirlwell reportedly said, and, consequently, sales are expected to beat expectations for the year and store sales have returned to pre-pandemic levels.
Thirlwell reportedly told the PA news agency, "When our stores opened they performed better than we had modelled.
"We recruited three million new customers online during the pandemic who are continuing to buy digital as well as going into our stores to enjoy immediate gratification."
Thirlwell reportedly added, "We anticipate we are going to be producing about 250 new jobs this year. They're in manufacturing, they're in data, or in design.
"These are high calibre jobs as well as a fair spread of entry-level jobs. We're pretty pleased to be playing our part in communities."
Sales in stores have reportedly returned to pre-pandemic levels on average, with particular growth in market towns, including St Albans and Hitchin in Hertfordshire and Stamford in Lincolnshire, but business in city centres and transport hubs continues to struggle.
Thirlwell reportedly said, "The work-from-home change has meant people with good jobs are sticking around the locality and want to shop there and enjoy more local experiences."
Trading Update
2021 revenues are reportedly set to be £165 million, up 21% on 2020 and 24% on 2019.
Sales were reportedly up 34% compared with 2019 during the 10 week period that ended on June 27 and 63% on last year when all stores were closed due to the pandemic.
Rents have reportedly been renegotiated and are now 30% lower, either via lower fixed amounts or switches to sales-based rental models, with the rest of the store estate leases either ending or being up for negotiations in the next two years.
Sales in the US and Japan have reportedly also improved, with sales in those regions being up 62% and 277%, respectively, on last year.
A trading update published on Hotel Chocolat's website stated that the company's FY21 (the 52 week period that ended on June 27) revenue was £165 million - an increase of 21% compared to FY20 and an increase of 24% compared to FY19.
The trading update stated, "The group remains well capitalised with cash on hand and access to a £25m 'CLBILS' Revolving Credit Facility with Lloyds Bank, that expires December 2021. To date, the group has made no drawings against the facility."
Additional Thirlwell Statement
Thirlwell stated in the trading update, "I am fortunate to be able to say that the growth avenues ahead of us have never been better in Hotel Chocolat's history. The strategies we put in place two years ago are now delivering accelerated growth. Our Velvetiser inhome drinks system, our VIP and digital programmes, and our USA and Japanese joint-venture start-ups have step-changed our growth potential.
"Our goal of becoming the most tech-activated chocolate brand is moving forward in leaps and bounds and is already helping to power our major achievements and future growth. Indeed, this year we expect more than 50% of our sales to come from digital, partners, and subscription-continuity models, reflecting how Hotel Chocolat is growing and evolving. Our brand-building stores will continue to play a pivotal role in our digital-led business, with an unrivalled ability to introduce new customers to our brand.
"I am particularly excited by what we have achieved so far in the USA and Japan, two of the three largest economies in the world. We have great growth opportunities there for Hotel Chocolat and strong teams in place to drive and support it.
"We are proud to be making our chocolate in the UK and will be creating over 250 new roles this year as we grow our team, from designers and data gurus to engineers and apprentices.
"Passion Fruit & Mango Cacao Gin is proving a real hit this summer, as is new Peanut Butter drinking chocolate, Ice Cream of the Gods and our fabulous new range of coffee beans and pods, complete with an in-home pod recycler.
"The whole Hotel Chocolat family is very grateful for the support from our customers, and we are determined to drive forward our ethical programmes in the communities we work within and our cocoa growers as well as our environmental targets and initiatives."
© 2021 Hospitality Ireland – your source for the latest industry news. Article by Dave Simpson. Click subscribe to sign up for the Hospitality Ireland print edition.