Krispy Kreme Records Jump In Revenue; To Open Factory In Naas, Co. Kildare
Published on Jun 3 2021 1:08 PM in Restaurant tagged: Krispy Kreme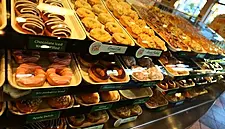 Krispy Kreme has recorded a jump in revenue for the first quarter of 2021 as the donut chain readies its return to the stock market after five years, against the backdrop of rising demand for sugary snacks during the pandemic.
The company recorded revenue of $321.8 million in the quarter that ended on April 4, compared with $261.2 million a year earlier, according to a filing for an initial public offering (IPO) that was made public on Tuesday June 1.
Last month, Krispy Kreme  confidentially filed with US regulators for an IPO.
The company was bought by privately owned JAB Holding Co in a $1.35 billion deal in 2016, when the investment firm was ramping up its bets on coffee and restaurant businesses.
After being cooped up at home for more than a year, vaccinated Americans are picking up their daily orders at fast-food restaurants, coffee houses and doughnut chains.
Sales have picked up at most fast-food chains in the US, after struggling with operations limited to delivery and drive-thrus for over a year, helped in part by stimulus checks that have boosted spending.
Known for its glazed sugary treats, Krispy Kreme opened its first store in North Carolina in 1937 when it started selling doughnuts in local grocery stores. It now sells its treats in grocery and convenience stores in the United States and operates shops in 30 countries.
The company first went public in 2000, but its unit had to file for Chapter 11 bankruptcy in 2005.
JPMorgan, Morgan Stanley, BofA Securities and Citigroup are lead book-running managers for the offering.
Krispy Kreme plans to list its shares on Nasdaq under the symbol "DNUT".
Above news by Reuters, edited by Hospitality Ireland.
Naas Factory
In other Krispy Kreme news, Krispy Kreme is opening a new factory near Naas in Co. Kildare.
According to The Irish Independent, Krispy Kreme has posted a job advertisement seeking a new food production manager for a "Naas Factory", which is planned to be based in nearby Ladytown, and the advert stated that the Naas factory will be Krispy Kreme's "first site to produce and deliver" its donuts.
The Naas factory site reportedly also have its own fleet, and the advert reportedly said that it will be open in August.
According to The Irish Independent, the ad said that Krispy Kreme's first Irish store in Blanchardstown has been "so successful" that the company now wants to expand on that success "not just with retail shops and supermarkets, but creating an online presence," and added that Naas is its next stop.
According to The Irish Independent, Krispy Kreme declined to comment.
As reported by The Irish Independent, Krispy Kreme announced in April that it would be expanding its footprint across Ireland and that its Blanchardstown venue will supply dobuts for branded cabinets at 20 outlets including Tesco and Tesco Extra outlet in Clarehall, Naas, Maynooth, Tallaght and Stillorgan, and at Circle K at Kill North.
As reported by The Irish Independent, a second standalone Kripsy Kreme outlet is currently planned for the Central Bank plaza on Dame Street in Dublin, and Krispy Kreme has indicated that more will follow.
According to The Irish Independent, Krispy Kreme's most recent accounts reveal that the company's Irish sales amounted to almost €6.6 million in 2019, and that its 2019 operating profits were approximately €1.84 million.
Article by Dave Simpson. Click subscribe to sign up for the Hospitality Ireland print edition.