NYC Requires Chain Restaurants to Post Warnings on Salty Food
Published on Sep 10 2015 11:18 AM in Restaurant tagged: salt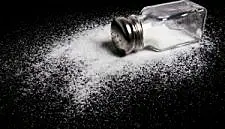 New York became the first US city or state to require chain restaurants to post a warning on menus when dishes contain high levels of salt.
The Board of Health on Wednesday unanimously approved the rule for food establishments with at least 15 locations nationwide, a group that generates about a third of the city's restaurant traffic. The rule is intended to reduce high blood pressure, which increases the risk of heart attacks and strokes, the US Health Department said.
"High sodium intake is dangerous," the Health Department said in a statement. "With a simple menu icon and statement to alert restaurant customers which items have exceedingly high sodium, New Yorkers will have easily accessible information."
The Board of Health decision, which carries the force of law, requires restaurants to identify any offerings with more than 2,300 milligrams of sodium, the recommended daily limit. Beginning 1 December dishes exceeding the limit will bear a warning label: an icon of a salt shaker inside a triangle.
News by Bloomberg, edited by Hospitality Ireland