Pizza Hut Debuts Hot-Dog Pizza in Push to Boost Sales
Published on Jun 11 2015 10:27 AM in Restaurant tagged: pizza hut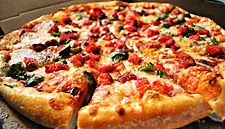 Pizza Hut, contending with sluggish sales, is betting that a hot-dog crust will help draw customers.
The pizza chain, which is owned by Yum! Brands, will debut the new Hot Dog Bites Pizza on 18 June to its 6,300 US restaurants. The item features 28 "premium hot dog bites," which are baked into the crust and meant to be pulled off and dipped in mustard.
Greg Creed, Yum's chief executive officer, has said he isn't happy with how the chain has performed since it debuted a new menu last year. In the most recent quarter, Pizza Hut's same-store sales were little changed from a year earlier. Creed said the chain hadn't been effective with its marketing and that it may have lost sight of "mainstream pizza customers" in favor of chasing millennials.
The chain has about 1.5 million of the new pies available and will sell them until July 11, or until supplies last. Pizza Hut, which first introduced a pizza made with crust stuffed with hot dogs in some Asian markets in 2011, has sold it at restaurants in the UK, Thailand, Australia, Canada and the Middle East. In earlier versions, the hot dogs were hidden inside the crust, running lengthwise.
The updated US design has the hot dogs peeking out of pretzel-style bites, which form the outer crust.
"Our U.S. fans have been asking for it ever since they saw it pop up around the world," said Doug Terfehr, a Pizza Hut spokesman. "We wanted to do it in a way that matched what the consumer would expect from these products, which they definitely love on their own."