Swedish Lawyer-Turned-Chef Will Abandon Menus at Top London Restaurant
Published on Sep 15 2015 3:19 PM in Restaurant tagged: chef / London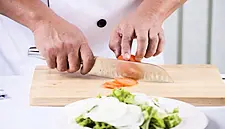 A former amateur cook who is now one of London's most respected chefs plans to close his restaurant temporarily to cut the number of seats by half. And then reopen without menus.
Mikael Jonsson, 48, who was a lawyer and entrepreneur in Sweden and France before opening Hedone in Chiswick four years ago, says the aim is to be more creative and to serve each table with individual dishes based on the produce he receives that day.
"Reducing the number of covers, for me, is the only way to take the food to another level," the Swedish chef said in an interview. "We are a busy restaurant and when we are completely packed, we can send out as many as 400 plates during an evening.
"We want to be able to push forward with all the ideas we've got in embryo. People will just tell us how much they want to spend, and two tables sitting beside each other who want to spend the same amount of money might get two completely different meals."
Hedone will close on Oct. 10 for the refurbishment, which will reduce the number of seats to 18 in the dining room and four on stools overlooking the kitchen, from the current total of about 40. Therestaurant is scheduled to reopen 21 October.
Jonsson's story is remarkable. Born in Olofstroem, in southern Sweden, he was passionate about food as a child and gained work experience in restaurants. But allergies meant he was unable to handle food, so he abandoned his dream of becoming a chef.
He studied engineering and then went to law school at the University of Lundwhile also completing a business degree in Gothenburg. He says he did his military service at the same time, before joining the law firm Mannheimer Swartling. He and his friend then went on to start their own law firm.
He then became involved in Internet projects in the late 1990s and lived outside Nice, and briefly in Monaco. He put himself on a Paleolithic diet -- focussing on meat and eschewing dairy -- because his weight was ballooning and says he lost 28 kilograms in seven months. His allergies also disappeared.
"Parallel with everything I'd been doing, I've had this extreme obsession with food," he said. "Ever since I was very young I really wanted to cook for a living but I couldn't do it because of allergies. And then I realised that suddenly I could do it."
Although he'd received no formal training and had never worked professionally in a kitchen, Hedone received rave reviews when it opened in 2011 and was awarded a Michelin star after just 14 months. It's placed at 60 in the Top 100 list issued by the World's 50 Best Restaurantsawards.
After Hedone reopens, dinner will be served from Tuesday through Saturday and lunch on Saturdays only. There will be two prices of set menu only. Jonsson said he hasn't decided on prices, but they are unlikely to be significantly higher than the present top options of 95 pounds ($147) and 125 pounds.
"There won't be too many courses because you very quickly lose interest if a menu is too long," he said. "But doing fewer covers will enable us to do more refined things."
Other restaurants, including Eleven Madison Park, in New York, have reduced the number of diners and won more Michelin stars. Jonsson denied that's a consideration.
"My personal goal is to see if I can find a style of food that is mine, and it doesn't have to do with accolades," he said.
News by Bloomberg, edited by Hospitality Ireland