Scottish Diners Are The UK's Most Generous Tippers
Published on May 14 2015 10:08 AM in Restaurant tagged: UK / tips / restaurant service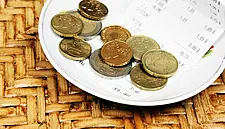 Scottish diners are the most likely to leave a tip when at a restaurant and Londoners leave the highest amount on average, new research has shown.
On average, a London diner will tip £5.68, way above the British average of £4.18. The Scots are the most likely to tip with 91 per cent leaving a gratuity after a meal, according to a survey carried out by booking service OpenTable.
The average tip is nine per cent of the total bill, and 87 per cent of people said they would always leave a tip, as reported in the Daily Telegraph.
The survey asked 2,000 UK-based adults about their tipping habits and it discovered that its male respondents were less likely to leave a tip than women. Some 17 per cent of men said they never leave a tip compared to just ten per cent of women.
Friendly service is the most important factor as to whether a customer will tip or not. The most cited reasons for not tipping are rudeness, slow service and the server forgetting items.