A FEBVREUARY Celebration
Published on Jan 22 2016 11:11 AM in Drinks tagged: Wine / Febvre / Febvreuary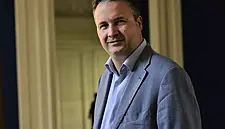 Wine distributor Febvre & Company Limited introduces FEBVREUARY, a month of wine discovery, taking place around Ireland throughout February.
The FEBVREUARY events, open to trade only, will include wine tasting from Febvre's portfolio as well as allow attendees meet visiting winemakers; attend educational seminars and learn the latest in global consumer wine trends for 2016.
The full diary for the month can be seen on www.febvrewines.ie and, as places are limited, it is necessary to book your place in advance to attend the event of your choice.
Week One:
Throughout the month Febvre will be opening up 21 still and sparkling wines on a rolling basis for the trade to taste. They will also be demonstrating Le Verre de Vin Wine by the Glass technology which keeps all wines fresh for 21 days, as well as showing their full range of Spiegelau Glassware and EuroCave cabinets.
Dante Cecchini from Castello Banfi from Italy will host 'The Tuscan Lifestyle' tasting in Dublin on 2nd February and in Galway on Wednesday 3rd.
From France, Louis Fabrice Latour (pictured), the 11th generation of Latour wines established in 1797, will host a tasting about the Twelve Wines that tell the story of innovation at Maison Louis Latour over the last century.
Week Two: watch out for Fiona Beckett of www.matchingfoodandwine.com. She will be around Ireland to explain how seasoning affects your wine choice. And, there's lots more coming also.
To the forefront of the Irish wine trade for over 50 years, Febvre is partnered with some of the most illustrious names across the wine world.
TRADE BOOKINGS: www.febvrewines.ie/events