Bill Launched To Change 'Antiquated' Licensing Laws And Boost Craft-Beer Tourism
Published on Nov 25 2016 12:44 PM in Drinks tagged: Fáilte Ireland / The Wild Atlantic Way / Eight Degrees Brewing / Alan Kelly / Hope Beer / Food Connect / The Intoxicating Liquor (Breweries and Distilleries) Bill 2016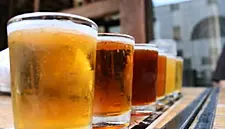 Labour spokesperson on Jobs, Enterprise and Innovation, Alan Kelly TD, launched a Bill earlier this week aimed at boosting craft-beer tourism in Ireland by allowing breweries, cider makers and distilleries to sell their own produce to visitors on site.
Fáilte Ireland's 'Food Connect' conference revealed in September that 'visiting a whiskey distillery or micro-brewery' was one of the top five most desirable food experiences for holidaymakers to Ireland. Kelly commented that owners echoed a similar sentiment, saying, "there is a substantial demand for craft-beer tasting on site".
Ireland's microbreweries employ 439 full-time workers, with an estimated 392 people also indirectly employed in the industry. Microbreweries are in operation in 23 of the 26 counties, with a projected turnover of €59 million euro this year. However, 'craft-beer tourism' is hampered by current licensing regulations, which require producers to have a pub license or an off-licence to sell their produce.
Discussing Ireland's licensing laws with Cork's Eight Degrees Brewing and Howth's Hope Beer in the August issue of Hospitality Ireland magazine, Eight Degrees Brewing described it as being "our single largest regulatory frustration" and "antiquated".
"There's also a big tourist element to [visiting breweries], we have a lot of breweries on The Wild Atlantic Way, that could be a huge tourist thing, but there's no point in people going to breweries when they cant enjoy a beer. That's part of the experience," commented Hope Beer.
"Craft beer and tourism should be able to work seamlessly together. The brewery should act as a catalyst for travellers to venture out of cities on a weekend, to explore and enjoy the natural surrounds of the Irish countryside. If they want, they can make a short trip to visit the brewery, sample the produce and enjoy learning about the brewing process. This dream is a reality for some already but we want it available to all," said Eight Degrees Brewing.