BrewDog To Aim For £25 Million In Crowdfunding
Published on Apr 23 2015 2:55 PM in Drinks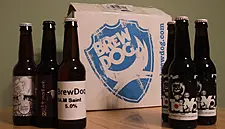 BrewDog, the Scottish craft brewery with beverages stocked by supermarkets all across Britain, has launched a new crowdfunding campaign.
Martin Dickie and James Watt, the founders of the company, hope to raise £25 million through selling shares. The minimum investment is £95, which buys two shares.
Watt said: "We are not Rockefeller. We are Guy Fawkes. We are burning the established system – the status quo – down to the ground and forging a new future for business from the flames. We are putting the fat cats out to pasture and empowering everyone to be masters of their own destiny by investing in our passion for craft beer."
In 2013 BrewDog earned £4.25 million in under six weeks through selling shares, which at the time was the most successful crowdfunding initiative ever seen.
© 2015 European Supermarket Magazine – your source for the latest retail news.