Bud Light Apologizes for Message That Critics Said Endorsed Rape
Published on Apr 28 2015 9:29 PM in Drinks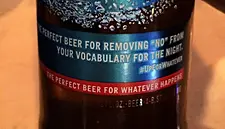 Bud Light has apologized for a marketing slogan printed on its bottles that critics said endorsed rape.
As part of its "Up for Whatever" campaign, the company had stamped some bottles with the tagline: "the perfect beer for removing 'no' from your vocabulary for the night." Photos of beers with the message were circulated online this week, with social-media users saying it promoted rape culture.
Alexander Lambrecht, vice president of Anheuser-Busch's Bud Light division, responded on Tuesday, saying the company would never condone disrespectful or irresponsible behaviour.
"The Bud Light Up for Whatever campaign, now in its second year, has inspired millions of consumers to engage with our brand in a positive and light-hearted way," he said in an e- mailed statement. "In this spirit, we created more than 140 different scroll messages intended to encourage spontaneous fun. It's clear that this message missed the mark, and we regret it."
Bloomberg News, edited by Hospitality Ireland