Chocolate Beer Is Real, And It's Delicious. Here Are Seven To Try
Published on Feb 7 2018 3:07 PM in Drinks tagged: Chocolate / Beer / Barreled Souls Brewing Co. / Chris Schofield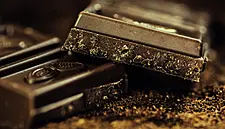 Smaller brewers, hip to the idea that the process for roasting malts and roasting cacao are relatively similar, are beginning to conjoin chocolate and beer.
"Depending on the type of chocolate you use, generally you can expect roasted and charred flavours with rich and sweet undertones—a perfect pairing to the bold roasted flavours of a good stout," says Chris Schofield, co-owner and head brewer of Maine's Barreled Souls Brewing Co. "The difficulty comes in figuring out how best to get the chocolate character to stay in the beer."
The amount and type of chocolate—along with when and how you add it—all play a role. Barreled Souls gets its balance between beer and chocolate by using everything from raw cocoa nibs to milk bar chocolate from Belgium. Just in time for Valentine's Day, here are seven decadent brews.
Chocolate Cherry Dark Matter
A variant of Barreled Souls' exceptional black ale, Dark Matter, this version packs copious chocolate and cherries. The added cocoa and fruit lend an engaging, sweet brightness to flavours of roasted coffee and dark jam at its boozy base. (10.1% alcohol by volume)
Imperial Mexican Biscotti Cake Break
This mash-up from breweries Evil Twin and Westbrook has everything but the kitchen sink thrown in. Evil Twin's Imperial Biscotti Break, brewed with vanilla, almond, and coffee, meets Westbrook's Mexican Cake, brewed with cocoa nibs, vanilla beans, cinnamon sticks, and fresh habanero peppers. Each of the many ingredients is harmoniously combined with every sip of this crazy imperial stout. (10.5% ABV)
Breakfast Stout
Founders Brewing Co.'s Breakfast Stout is a readily available staple, perhaps infamously so for the toddler pictured on the label. An oatmeal stout brewed with two types of fine coffee and both bitter and imported chocolates, it has a bouquet that evokes a generously fed cozy AM. On the palate, it's both fresh and smooth, with a lightness that makes it all too easy to knock back. For a more hard-to-find riff on this classic, look for Founders' Canadian Breakfast Stout, aged in bourbon barrels which held maple syrup. (8.3% ABV)
Beer Geek Cocoa Shake
The craft empire of Danish gypsy-brewing label Mikkeller can be traced back to its Beer Geek Breakfast oatmeal stout, brewed with French press coffee. Over the years, the recipe has been updated with a number of different remixes. In this case, it's been transformed into a cocoa shake. Think brownie batter, campfire, and toasty malt. (12.1% ABV)
Original Maple Truffle Ice Cream Waffle
Swedish dessert-beer maestros Omnipollo, in collaboration with UK's Buxton, hit the nail on the head with its series of ice-cream inspired beers brewed with milk sugar. With truly unique entries accurately modeled after anything from blueberry slab cake to lemon meringue ice creams, it's the Maple Truffle Waffle that'll scratch the itch for chocoholics: It's sticky sweet, with notes of maple-covered chocolate. (11.5% ABV)
Bomb!
Oklahoma's Prairie Artisan Ales has built a prolific portfolio of eclectic brews, with Bomb! possibly its most-acclaimed recipe. The booziest on this list, the beer is aged on espresso beans, chocolate, vanilla beans, and ancho chile peppers, which synthesizes into something roasty, bitter, sweet, and the slightest bit hot. (13% ABV)
Organic Chocolate Stout
Brewed with water from Samuel Smith's original 1758 well, this easily found offering from the UK is bottled at a more sessionable alcohol by volume than most chocolate stouts. Using gently roasted organic cocoa extract, the beer yields a creamy sweetness and clean finish. (5%)
Article by Bloomberg, edited by Hospitality Ireland