Delicate Wines Won't Do When You're Drinking at 36,000 Feet
Published on Oct 15 2015 8:10 AM in General Industry tagged: Wine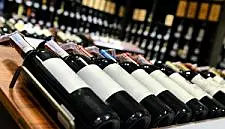 This past spring, Joost Heymeijer arrived in Bordeaux with the Emirates airline wine team for a four-day marathon of tasting barrel samples. They ended up purchasing almost 1 million bottles as futures, zeroing in on 60 famed crus classés, such as Château Cheval Blanc. When the wines are ready to drink, they'll be poured gratis in Emirates' first and business classes.
"A long journey looks a lot better with a glass of fine Bordeaux or champagne," says Heymeijer, who's in charge of the airline's in-flight catering. "That's why we've spent half a billion dollars on the wine program over the past decade." Two million bottles are aging in a warehouse in Burgundy; the rest are stored in Dubai.
Emirates is one of many airlines adding elite wines to the list of luxury perks like massage beds and Michelin-starred cuisine as a long-term strategy to win wealthy travellers' loyalty.
Carriers choose most wines from blind tastings using experts such as James Cluer, who initiated Qatar Airways' program a decade ago. Singapore Airways' three-person panel includes two Masters of Wine; sommeliers from Australia's Rockpool Restaurant Group make the picks for Qantas Airways.
Selections vary widely by airline and flight, but top champagnes are a constant. Lists favour rich and fruity wines over delicate, complex ones because cabin  pressure and low humidity diminish your senses of smell and taste. (Not all choices qualify as luxury bottles; the sauvignon blanc in Etihad Airways' three-room suite is a modest $15 at retail.)
Airlines are also investing heavily in service. Etihad uses crystal glassware created especially for the airline, as does Singapore. And Qatar has provided professional wine-training courses for all of its 9,000 flight attendants.
Bloomberg News, edited by Hospitality Ireland