Four Things You May Not Realize About Natural Wine
Published on Nov 16 2016 11:49 AM in Drinks tagged: Wine / Brooklyn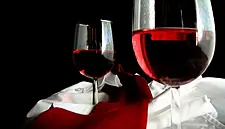 Last weekend, Raw Wine uncorked in Brooklyn, N.Y. The globetrotting fair celebrates natural, biodynamic, and organic wine—it began in London in 2012 and has since stopped in Vienna and Berlin—bringing...
Last weekend, Raw Wine uncorked in Brooklyn, N.Y. The globetrotting fair celebrates natural, biodynamic, and organic wine—it began in London in 2012 and has since stopped in Vienna and Berlin—bringing with it hundreds of natty bottles and attracting thousands of thirsty attendees. It was the inaugural event at 99 Scott, a newly renovated industrial compound in Bushwick that also houses an urban meadery and a pho joint (the second location of the Michelin-lauded dive, Bun-Ker Vietnamese).
Natural wine is the industry's buzziest category: a living, breathing expression of terroir, representative of healthy soils, microclimates, and idiosyncratic growers, or so I learned through the two days of swishing and scrutinizing. It's a movement based on intelligent discussion and, from the vibe here, a bit of emotion.
In the compound's gravel courtyard, local hero Roberta's slung freshly charred pizzas from a pop-up oven while young kids played tag amid the picnic tables. Inside, a moody if genial bunch of smartly dressed European and American wine producers with angular eyewear and superfluous scarves dispensed samples to journalists, industry types (sommeliers, importers, distributors), and assorted wine enthusiasts. Many looked as if they'd rolled out of their nearby lofts and stumbled upon the event, bed-heads and all, while others boasted t-shirts emblazoned with natural wine slogans such as "Sulfur is Murder!" and "Natural Yeast Til It Hurts."
It was crowded, cheery, and as boisterous as you'd expect a free-flowing event to be. Here are my four main takeaways.
Natural Wine Styles Are Ambiguous
Ask someone at RAW Wine to describe "natural wine" and you'll receive a look of befuddlement.  That's because there isn't a codified style—and there are few, if any, tasting notes common to all natural wines.
In broad terms, natural wines are wines made with as few intervention as possible: namely, without additives to keep them shelf-stable and without chemicals or "correctives" that change tannin structures, acidity levels, and alcohol percentages.
It's true that some natural wines are the out-there, hippy-dippy barnyard swill that have become stereotypical of the genre—ones ripe with such flaws as ethyl acetate (which smells like nail polish remover) or a funky must that's reminiscent of a moldy basement. But many are clean, classic wines that we think of as traditional styles—robust Bordeaux, beguiling Champagnes—ones that are familiar to any casual wine drinker.
The producers are just as varied, too.
Some are drawn to the movement by clean farming practices (nearly all the producers at Raw were organic certified) while others bask in the mysticism of biodynamic planting, harvesting, and bottling, which draws largely on lunar cycles and seemingly bizarre ritualistic practices (stuffing cow horns and intestines with manure, herbs, and flowers and burying or hanging them around vineyards).
For her part, Raw organizer Isabelle Legeron lays out a "Charter of Quality" dictating up to 10 criteria for inclusion in the fair: grapes must be hand-harvested; no yeast may be added; wines may not contain more than 70 milligrams of added sulfites per liter (naturally occurring sulfites are not included in this count), and so on.
None of this translates remotely to any sort of common tasting notes that could describe all, or even most, of the wines presented at RAW. For adventurous drinkers, that's one of the most exciting things about the fair and the movement it represents—a sense of discovery and the feeling that you're never quite sure what you're going to get. For more conservative palates, the thought of plonking down $40-plus on an unknown, potentially peculiar bottle of wine may be troubling; the sweet spot for natural wines is in the $20-25 range, where exceptional—and exciting—values can be found without taking too big a risk.
It's Not All About the Funk
Like hot sauce enthusiasts seeking out the highest Scoville units or craft beer nerds scrounging for the hoppiest IPAs, some natural wine novices are drawn to the extreme ends of the genre; the funkier the wine, the better. But very little of what I tasted at Raw fit this stereotype of dirty, flat, cider-like wines. In fact, most were vibrant and clean and would undoubtedly appeal to everyone from my Yellow Tail-loving mother-in-law to the most ardent of natural wine fans.
Some of the most vibrant wines were from Alexandre Bain, who farms biodynamic sauvignon blanc in the Loire Valley. His 2014 pouilly-fumés were exceedingly robust, with honey-like aromas and a long, rich finish. Ditto the Champagnes from Dominique Lelarge, whose family has been growing vines in Vrigny since the 18th century. His Champagnes were simply stunning, with good minerality and notes of ripe apricot and candied orange peel. In fact, it's the bubbly pét-nat style through which most people these days encounter their first natural wine.
Keep It Clean
One sentiment I encountered over and over at RAW is that most discussions about natural winemaking miss the mark entirely: True natural wines are made in the field, not the cellar. Indeed, most winemakers at RAW emphasized their roles as "growers" rather than producers or makers, expressing reverence for the raw materials—the grapes—which must come from exceptional vineyards in order to produce wine with few to no additives or stabilizers.
Secondary to farming comes a pristine cellar. Without the volition to make "corrections" to the wine—most conventional wines are augmented with acidity and tannin corrections, sulfite stabilizers, and chaptalization that boosts alcohol content—the cellar must be kept clean as a whistle.
Location, Location, Location
More than half the wines at Raw came from France, Italy, and California—traditional wine-growing regions that are also headquarters to the natural wine movement. But there were also producers from some truly head-scratching locales. Ever tried a wine from Texas Hill Country? How about Ohio? Both were represented at the fair (La Cruz de Comal from Canyon Lake, Tex., and Via Vecchia from Columbus, Ohio, respectively) as well as La Garagista's alpine wines from Vermont and Ruth Lewandowski Wines from Utah (which sources grapes from California).
Meanwhile, one end of the room was filled with a half-dozen wineries from the Republic of Georgia (known for its orange wine) while another wall was lined with a surfeit of Austrian growers. Of the latter, I found the wines from Stephanie and Eduard Tscheppe-Eselböck of Gut Oggau outstanding—juicy, engaging, and downright cheerful.
Such geographic diversity indicates that the practice of natural winemaking is becoming increasingly widespread—dare I say mainstream?—and that superbly raised vineyards can thrive in challenging locations and under less-than-ideal growing conditions, in places other than pitch-perfect Tuscany, Burgundy, and Napa.
Raw Wine Bottle-Buying Guide for Beginners
If you like Champagne, you'll like ... Champagne Lelarge-Pugeot Premier Cru Brut Tradition NV; $50 from Wine Therapy.
If you like Chardonnay, you'll like ... Domaine Chandon de Briailles Pernand-Vergelesses 1er Cru Ile de Vergeleses Blanc 2014; $68 from Chambers Street Wines.
If you like Rosé, you'll like ... Gut Oggau Burgenland Winifred Rosé 2015; $32 from Vineyard Gate.
If you like Pinot Noir, you'll like ... Swick Wines Willamette Valley Pinot Noir 2014; $18 from Europa Wine Merchant.
If you like California Zinfandel, you'll like ... Coturri Zinfandel Blend 2015; $35 from Coturri Winery.
News by Bloomberg, edited by Hospitality Ireland