Heineken Launches Zero Alcohol Beer
Published on May 15 2017 3:54 PM in Drinks tagged: Heineken / Canadean / Barcelona / Willem van Waesberghe / Spanish Grand Prix / Gianluca Di Tondo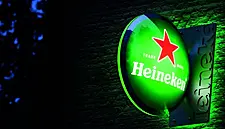 Heineken unveiled a new alcohol-free beer named "Heineken 0.0" which will be available in 14 markets across Europe as well as in Israel and Russia.
As reported by businessworld.ie, the company is hoping to profit from what it believes is a rising desire among consumers to enjoy beer that won't result in intoxication. There was a growth of approximately 5% per year in Europe's alcohol-free beer market between 2010 and 2015, according to research group Canadean, while the overall beer market shrank.
Heineken noted that zero strength beer has about a 10% market share in Spain. According to the company's senior brand director, Gianluca Di Tondo, "You could expect 10 to 15 years down the road that this would be more or less the global trend. We want to make Heineken the leading global beer brand in 0.0."
Beer critics cite a difference in taste as a primary reason for the failure of alcohol-free beers on previous occasions. Heineken brewmaster Willem van Waesberghe acknowledged that a zero alcohol beer will not taste the same, but is of the opinion that the company has come up with a brew that adequately recreates the fruity, bitter and acidic tastes associated with regular Heineken.