Why Now Is the Time To Try Barleywine
Published on Jan 4 2017 10:56 AM in Drinks tagged: Anchor Brewing / Barleywine / Anchorage Brewing / Alpine / Firestone Walker / Lervig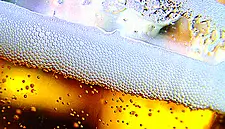 A beer style is more nebulous than you might think. Unlike, say, bourbon, which must be aged in first-use charred oak barrels, and Scotch, which must be aged in oak for at least three years, an India...
A beer style is more nebulous than you might think. Unlike, say, bourbon, which must be aged in first-use charred oak barrels, and Scotch, which must be aged in oak for at least three years, an India pale ale or pilsner doesn't have quite the same legal prerequisites.
The misleadingly dubbed "barley wine" (often marketed as "barleywine") gets its name from some of its wine-like characteristics: alcohol by volume that is often north of 12 percent and thus double or triple the strength of most beer. And, like wine, it has potential to age gracefully in the bottle—sometimes for multiple decades.
The strength of barley wine comes from a recipe of robust mash bills (the same grains that are used to distill bourbon), which yield an often turbid pour that can range in color from amber, to mahogany, to black. Though this strong ale has existed in some form or another since ancient Greece—"κρίθινος οἶνος," or barley wine—it wasn't until the late 19th century that Bass No. 1 Ale was properly marketed as barley wine in the U.K. A hundred years later, California's Anchor Brewing Company introduced Old Foghorn barley wine in 1976, one of the first to bring the then-esoteric genre to the U.S.
Since then, it's become a staple among craft brewers due to its ability to showcase an expansive array of flavors. Barley wines can essentially be separated into two families: American, which has a pronounced hop bitterness; and English, with a pronounced malt richness.
Barley Wine from Alaska
"I think barley wines are a reminiscing drink," says Gabe Fletcher, brewer and founding owner of Alaska's Anchorage Brewing Company. In 2005, when Fletcher was still cutting his teeth as head-brewer of fellow Alaskan operation Midnight Sun Brewing Company, he created what he called a "Belgian-style barleywine"—brewed with Belgian candi sugar and two Belgian yeast strains—aged in American oak barrels. Dubbed M, in honor of the brewery's 1,000th batch of beer, it was released to local acclaim with compelling flavors of tobacco, leather, and caramel.
After a couple of years, though, its legacy skyrocketed to become one of the most highly rated and highly coveted vintages of beer in the world. The few remaining bottles of M currently sell for a minimum of $1,000 on the secondary market. "It's cool, but also kind of crazy to me," Fletcher says. "I would never spend that much on a beer. But everyone has their thing."
Now, with nearly two decades of barley wine brewing experience, Fletcher knows better than just about anyone the tricks to bringing magic to the style. He credits his long boil times during brewing—roughly five times longer than many recipes—and the generous maturation in used oak barrels afterward for the complexity and smoothness. "Sometimes a simple recipe is better," says Fletcher. "It seems over the years of making barleywines, I've taken a simpler approach and let the barrel and the malt shine through." When a spirit barrel is too fresh and imparts a distractingly booze-heavy contribution, he'll partially age the beer in neutral kegs so a final blend won't simply taste like a shot of whiskey.
At Anchorage, Fletcher's annual special release barley wine is called A Deal With the Devil. Boiled for five hours and aged in former cognac barrels for a year, it's bottled at more than 17 percent alcohol by volume. Enormous sweet toffee, sticky nuttiness, and warming oak—it's a truly revelatory sipper. Next year's release will be aged for 18 months with separate barrel releases, including apple brandy, Spanish brandy, Scotch, and red wine, as well as the usual cognac.
Here are five other superlative barley wines to know:
Alpine | Great (15% ABV)
Alpine's barley wine "Good" becomes "Great" once it's been aged in bourbon barrels for a year. Offers graceful notes of dried fig.
Firestone Walker | §ucaba (13.4% ABV)
Aged for a year in bourbon barrels, the unpronounceable name (just go with "Sucaba") was formerly known as Abacus and is the star of Firestone Walker's superlative barrel program. Tastes of vanilla and coconut, but with a malty mouthfeel.
Kuhnhenn | Bourbon Barrel Barley Wine (14% ABV)
Kuhnhenn is the beloved outsider artist of U.S. craft beer, and this gem—aged for nine months in bourbon barrels—is its best. Flavors of rich caramel and burnt toast with a funky woody quality.
Lervig | Barley Wine (13% ABV)
Unexpectedly stunning barley wine from Norway-based Lervig. Aged in Maker's Mark barrels for a year, it tastes of brown sugar, dark fruit, and fluffy marshmallow.
Sebago | Barleywine (11.8% ABV)
Continually under-the-radar brewery Sebago produces Maine's best barley wine. It's aged in bourbon barrels for more than eight months and emerges with a light bitterness and dry finish.
News by Bloomberg, edited by Hospitality Ireland