Record UK Sparkling Wine Sales As France And Italy Buy British
Published on Jan 1 2017 1:54 PM in Drinks tagged: Prosecco / champagne / sparkling wine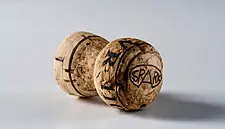 Britain exported sparkling wines to a record number of countries in 2016 as the industry seeks a 10-fold increase in exports by 2020.
As New Year's Eve revelers worldwide prepared to raise a glass to see out 2016, the Department for Environment, Food and Rural Affairs said the U.K. exported sparkling wines to 27 nations in 2016, up from 19 a year earlier. Sales of English fizz also boomed domestically, with Marks and Spencer Group Plc doubling sales in its stores, and Waitrose Ltd. seeing a 50 percent increase.
"With major producers on track to deliver a 10-fold increase in exports, we could soon be tapping into more countries," Environment Secretary Andrea Leadsom said in an e-mailed statement. "Our vintners are set for huge success in 2017 with wineries growing and more bottles on supermarket shelves."
British winemakers are seeking to increase exports to 2.5 million bottles by 2020 from 250,000 bottles in 2015. Sparkling wines, grown mainly in Kent and Sussex, counties in southeast England which have similar chalky soils to France's Champagne region, account for almost 70 percent of production.
The U.S., Japan, Taiwan and Dubai bought British wine alongside France and Italy in 2016, Defra said.
The boom in domestic sales also suggests British customers may be able to tap domestic wines to replace imports from the European Union if they're made more expensive by Britain's plan to leave the bloc. Sparkling wines were dragged into the Brexit debate when Foreign Secretary Boris Johnson told Italian Economic Development Minister Carlo Calenda that Italy will grant Britain access to the EU's single market after its departure from the bloc "because you don't want to lose prosecco exports."
News by Bloomberg, edited by Hospitality Ireland