Second Season of Santa Rita Concerts Announced
Published on Aug 28 2015 11:08 AM in Drinks tagged: santa rita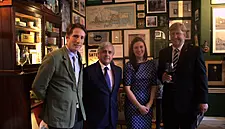 Curated once again by the internationally-acclaimed music production company Ergodos, the 2015-16 season of the Santa Rita Concerts is expected to be even more popular than last year's event.
2014 saw some memorable musical experiences in the Little Museum of Dublin, preceded by wonderful wine tastings.
This is the second concert series in the Little Museum sponsored by Santa Rita. The concert series compliments a concert series that began in Chile in 2011.
Speaking at the launch, Terry Pennington of Santa Rita said, "Vina Santa Rita has made a deep commitment to culture because we firmly believe it drives development in Chile and our communities."
Each concert is conceived to provide a unique, deeply immersive audience experience, beginning with an exclusive Santa Rita wine reception on the museum's first floor, and a pre-concert interview with the evening's musician.
"We're thrilled to be working with Santa Rita once again," said museum director Trevor White. "People love these concerts, and it's a privilege to host them here in the museum."
Image (L-R):  Trevor White (Little Museum), Ambassador Hinojosa, Sarah Costigan (Little Museum), Terry Pennington (Santa Rita)
Programme:
Wednesday 16th September 2015: Frank Gavin (fiddle), Malachy Bourke (fiddle), Brian Bourke (bodhrán)
Wednesday 28th October 2015: Jennifer Evans (singer & songwriter), Wednesday 25th November 2015: Chris Wood (singer & songwriter)
Wednesday 27th January 2016: Michael McHale (solo piano)
Wednesday 24th February 2016: Chris Watson (sound recordist)
Wednesday 30th March 2016: William Butt (solo cello)
For further information and high-resolution images, please contact Sarah Costigan on 661 1000 / [email protected]