Spreadable Beer Is a Real Thing ... And Delicious
Published on Aug 18 2015 11:23 AM in Features tagged: Beer / spread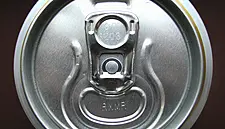 This week I had beer for breakfast. On a Wednesday, writes Bloomberg's Stephen Pulvirent.
I spread oatmeal stout on my toast with some peanut butter from the company canteen and then sat down at my desk to write this. And no one gave me so much as a funny look.
Beer jelly is exactly what it sounds like. Instead of starting with fruit juice or pulp, you boil beer with the requisite sugar and pectin, stick it in a jar, and let it set. When everything cools down, you've got a loose jelly that tastes a lot like the original beer but with a little more body and none of the alcohol. (Sad, if more socially acceptable, I know.)
A quick search on Etsy will turn up countless people making beer jelly at home and selling it to fellow members of the cross-stitch set, but since both alcohol and preserving are involved, I'm sticking to the professionally made stuff. For that, Vermont's Potlicker Kitchen is leading the commercial- kitchen charge here in the States. (In Italy, there's Birra Spalmabile, a strange, spreadable chocolatey paste that's as if Nutella had a wild night with a Peroni. But that's another story.)
I decided to try three of Potlicker's jellies—IPA, oatmeal stout, and apricot ale—along with "beerbutter" from Brooklyn's Anarchy in a Jar for good measure. (Not butter butter, but apple butter-based.)
So how do you eat beer jelly? Like jelly. It's not that hard, I promise.
The oatmeal stout jelly is the most intimidating, with its dark brown color and heady smell. But it's actually sweet, and a lot fruitier than you'd expect. The roasted, yeasty flavors you want from a stout are there, but it's not like chomping into Marmite by any means. With sliced juicy figs and a cracker, it was delicious. On a tear of Brie, even better. Potlicker suggests throwing it into marinades and sauces as well, and while I didn't whip up a midsummer pot roast for this story, I can't imagine this not being delicious.
The IPA jelly is similarly enjoyable. The grapefruit and tropical fruit flavors from the hops shine, and instead of bitterness in the aftertaste you get the remnants of the alcohol burn, keeping the jelly from getting cloying. It's especially good globbed on top of a smear of soft, mild cheese like d'Affinois.
The apricot ale jelly tasted mostly like apricot with a tiny zing in the aftertaste. As a complement to some dark chocolate or on toast it's fine, but also eminently skippable if what you're after is a realbeer flavor and not, say, a tasty apricot jelly. The ale butter was another snoozer—it's a perfectly good spiced apple butter, but I would never have guessed there was craft beer in it.
So should you drink a beer with your spreadable beer? Naturally.
Resist the urge to pair each jelly with the beer it's made from, though; that would just be boring.
Instead, for the oatmeal stout jelly, I'd reach for a big Belgian quadruple ale, like the Trappist Rochefort 10, or an old ale, like Founders' Old Curmudgeon. They're both boozy enough to cut through the jelly's sweetness and will bring out all the fruity undertones.
For the lighter jellies, golden ales and saisons work well, but I found what really nailed the pairing was a Points Unknown IPA (a mixture of IPA and barrel-aged Belgian triple ale made in collaboration by Stone Brewing, Ecliptic Brewing, and Wicked Weed Brewing). The balance of hop flavor and richness from the aging was spot on—as is this whole beer jelly idea in general. I was expecting thick goop that tasted like the bottom of a brew kettle, and instead I found a new addition to my party cheese plates.
And, if I'm feeling saucy, my morning routine.
News by Bloomberg, edited by Hospitality Ireland