UCC Coffee Launches Unique Approach To Training
Published on May 18 2017 10:26 AM in Drinks tagged: UCC Coffee Ireland / coffee Barista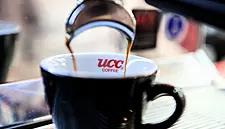 Bringing a fresh approach to coffee training in Ireland, UCC Coffee Ireland has launched a measurable training programme called 'Coffee Works: Measure. Train. Excel' to help customers consistently deliver exceptional coffee, regardless of scale.
Through its Coffee Excellence Check, the programme is able to accurately measure performance across individual sites and entire estates identifying areas for improvement. The output of the check then informs a tailored approach to practical, hands-on training – delivered through interactive courses, supporting materials like handbooks and videos, and continued site visits to ensure standards are consistently high and continuously improved.
Gareth Davies, head of coffee excellence, UCC Coffee UK & Ireland comments: "In an increasingly competitive market, consistency is more important than ever. To achieve it, you need three things – good coffee, good machines and good baristas. Controlling and maintaining your coffee and machines is simple. Ensuring uniform quality across all your baristas is the challenge. That's why we've developed Coffee Works – a tailored, practical and hands-on approach to training that can be delivered at scale, ensuring exceptional coffee, every time."
Coffee Works training includes three new interactive courses: Becoming a Barista, Journey Through Coffee, Manager Critique, as well as SCA accredited diploma courses.