The Year's Best Champagne as Picked by a Top Sommelier
Published on Dec 14 2016 11:21 AM in Drinks tagged: champagne / London / Brut / Ritz hotel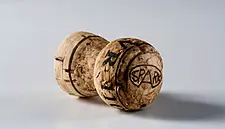 Giovanni Ferlito is head sommelier at the exclusive c where you can enjoy some of the world's finest wines in one of the most glamorous dining rooms in Europe. He can appreciate fine Champagnes, su...
Giovanni Ferlito is head sommelier at the exclusive c where you can enjoy some of the world's finest wines in one of the most glamorous dining rooms in Europe.
He can appreciate fine Champagnes, such as the Krug, "Clos d'Ambonnay" Brut, Vintage 1996, which is on the wine list for £4,550 ($5,770). So what is he going to make of a supermarket variety costing £9.99? We asked him.
Ferlito agreed to conduct a blind tasting of Champagne from stores around London. He was excited and unsnobby about the challenge and said there wasn't a bad one in the whole bunch. But there were surprises: Marks & Spencer's entrant, normally £25 but now on sale for £16, beat pricier bottles from Harrods and Fortnum & Mason. Here's what he had to say.
Oudinot Brut, Marks & Spencer (£16 to Jan. 1) 9/10:
"This is bright and very lively. It is fresh and citrussy, with some white flowers and perhaps some almonds. There is complexity on the nose. It is crisp and mineral. You can really feel the chalkiness of the soil. I like the crisp acidity and I like the bubbles because they are quite rich but still very smooth and elegant. This is distinctive and it is my kind of Champagne."
Harrods Premier Cru (£31.95) 8/10:
"There are a good number of bubbles. but not too many, and they are quite small so the first impression is the Champagne could be quite elegant. I like the color. It is medium pale gold. The nose is fruity, some yeast flavors. I would say gold apple. Some white flowers. I am happy with the nose as well. It is clean, it is pure. Good fruitiness. Nice minerality. A Little bit of yeasty flavor. It is a good quality champagne and the palate is elegant and clean as well."
Waitrose Vintage Brut 2005 (£24.99) 8/10:
"This is the darkest so far. A lot of bubbles, quite big bubbles.  Perhaps aged for a long time. It is an intense gold color. It is the most intense and complex and powerful on the nose, with notes of ripe pear. It is quite yeasty. It is really nutty on the nose. This is a big Champagne. much more rich on the palate, much more creamy. Good structure but it is more heavy. This is not something I would drink as an aperitif. I would serve this with your meal."
Les Pionniers (The Co-op) £16.99 7.5/10:
"This is a full gold color with a lot of bubbles. It's quite different from some of the others,  more aggressive. It is very intense but you don't get too many flavors. It is quite rich and might go well with food. It is just all right. I don't necessarily like the bubbles. When you taste it, it doesn't become creamy. You feel the liquid and the bubbles separately."
Comte de Senneval Grande Reserve (Lidl) £18.99 7.5/10:
"It's pear, green apple, yellow flowers: fresh fruits and citrussy. It is light and subtle, not yeasty. It's a refreshing Champagne that is very approachable with good acidity. It would be perfect to drink on its own as an aperitif. You shouldn't expect too much from a Champagne like this. It's to be drunk when it is young."
Comte de Senneval (Lidl) £9.99) 7/10:
"There are a lot of large bubbles coming up very fast. Champagnes that go through a long process of ageing in the cellar have bubbles that are small and delicate and well-integrated. Entry-level non-vintage Champagnes go with a faster evolution so the bubbles can be bigger and less delicate. This has an intense gold color. It's not complex but the palate is OK, with good acidity. I was expecting it to be less elegant. It's quite pleasant."
Fortnum & Mason Brut (£33.50) 6.5/10:
"It's medium gold - not my favorite color. It doesn't look really fresh or bright or alive. The nose is not complex. But on the palate it is quite fresh at the beginning with a good acidity. It is a perfect champagne for someone who likes a very crisp champagne. I might drink this as an aperitif. But there are many different styles of Champagne and this isn't to my taste."
Monsigny Brut (Aldi) £9.99 6/10:
"It's a bit dark. I'm not too sure about the color. I expect champagne to be a little bit more bright. The nose is intense but not precise or complex. You get quite a lot of bubbles but they are slightly large and less refined. Yes you have the acidity, you have the freshness. It is a fresh, crisp Champagne but it's quite short and the bubbles are not elegant. It's not my style."
News by Bloomberg, edited by Hospitality Ireland