Why It's So Difficult to Turn Down the Volume at Popular Restaurants
Published on Aug 11 2015 10:55 AM in Restaurant tagged: restaurant / London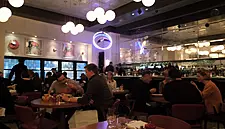 Jason Atherton, whose Social Restaurant Group is circling the globe, once told me that he was inspired by the Stanton Social in New York, writes Richard Vines, chief food critic for Bloomberg. The ch...
Jason Atherton, whose Social Restaurant Group is circling the globe, once told me that he was inspired by the Stanton Social in New York, writes Richard Vines, chief food critic for Bloomberg.
The chef said he loved the conviviality, the hospitality, the buzz. Ah yes, the buzz. I visited New York and made my way to that inspirational Lower East Side restaurant, with its ground-floor dining room and a bar up a flight of stairs. What Atherton, 43, experienced as a buzz was, for me, a ringing in the ears. It was loud - so loud that I had no interest in staying, even for a drink.
Then I found that other New York restaurants and bars were noisy, too. Babbo, DBGB, Employees Only, Fatty Crab: All were too loud for me, and I realised this was the soundtrack to getting old. Music and conversation bouncing off walls held no appeal.
It helps to know I am not alone.
Lombard Effect
"Bad acoustics are a deal breaker," says Mick Hucknall, 55, a singer and songwriter who achieved international fame with his band Simply Red. "If I can't hear my friends speak, I'll avoid going back." See? There's no holding back the years.
Actor Stanley Tucci, 54, known for movies such as The Hunger Games and The Devil Wears Prada, also finds some venues too loud.
"It's a very delicate balance," he says. "I do like to have music sometimes, but I don't like loud music. I don't get it. I find it distracting. I want to hear the people around me. The perfect sound in a restaurant is like a French bistro, buzzy." (Let's look forward to The Devil Wears a Hearing Aid.)
It's a thin line between noisy and buzzy. Part of it is down to a little thing called the Lombard effect.
"First described by Etienne Lombard in 1911, the Lombard effect is a phenomenon in which speakers alter their vocal production in noisy environments, such as loud parties or restaurants," explains Priscilla Lau of University of California-Berkeley in 2008 phonology lab report.
In other words, diners speak loudly in loud restaurants and then the people at neighboring tables turn up the volume of their own speech in order to be heard. Did you CATCH THAT? Don't even get me started on music loud enough to rattle teeth.
Slick, Modern, Loud
One of the main reasons restaurants are becoming louder in the first place is that once-fashionable soft furnishings are being abandoned in favor of sleek, modern designs. To put that more simply, carpets and tablecloths are going out of fashion.
"Industrial designs with concrete finishes and hard surfaces mean noise is propelled around the room," says Jeremy Luscombe of Resonics, a company that helps restaurants reduce noise levels with acoustic panels for walls and ceilings.
Open kitchens are another factor. "Kitchens can be quite noisy places, closed off from the dining room," Luscombe says. "Restaurants now try to integrate the kitchen, which can lead to a lot of noise spillover." His company has compiled a case study about reducing noise at a restaurant in the Scottish Highlands. The Resonics solution to maintaining the aesthetics of the restaurant, while "restoring acoustic clarity," involved printing bespoke designs on Class-A acoustic panels, making sound absorbers into art features.
Restaurants in the capital [London] could take note. I made a quick tour of establishments in Covent Garden, Soho, and Mayfair to measure decibel levels. STK was the noisiest, at close to 90dB - levels at which "sustained exposure" may result in hearing loss. But, to be fair, STK is like a club with loud music: No one sober would choose to go there for a quiet dinner.
Two restaurants I think of as noisy - JinJuu and Jason Atherton's Social Eating House - were quieter then I remembered them, at about 85dB. Mishkin's was slightly louder, while the outdoor terrace at Aqua was close to STK's volume, thanks to the presence of a DJ. Atherton's Little Social was below 85 decibels, like city traffic heard from inside a car.
Restaurateurs are aware that noise can be an irritant for diners who are too old for alcopops.
Difficult Balance
"Acoustics are always of paramount importance in a restaurant," says Jeremy King, who owns several of London's most fashionable restaurants with his business partner, Chris Corbin.
"They determine the balance between the attractive buzz of a desirable ambience and the clattering cacophony of sound that soon alienates anyone over 30. It is one of the first considerations we make when designing a restaurant."
This isn't only a matter of aural aesthetics. Loud restaurants are an unwelcoming environment for people who can't hear so well, which often means the elderly, according to Laura Matthews, senior researcher and policy officer for the UK charity Action on Hearing Loss.
"Noise interferes in communication," she says. "A lot of people, when they get older, find it more difficult to distinguish speech from background noise, so it can become really difficult in restaurants and cafés. We are planning a campaign to raise awareness of this issue."
In the interest of research, I head off to a steak restaurant and bar where young men and women are having a whale of a time. The music is loud but it can't drown the sounds of their enjoyment, including shouted jokes and shrieks of laughter.
I watch my decibel counter nudging 90. That's equivalent to a noisy office, an oboe, or a diesel truck, depending on whose scale you use. On the same evening, I visit four additional establishments, all in the 85dB to 90dB range. It's tiresome.
Other forms of age discrimination are illegal. It's time chefs stopped acoustic discrimination against older diners.
Turn down the volume.
Richard Vines is the chief food critic for Bloomberg.